Local News
McKinney VFW to make $5000 donation to Collin County History Museum
May 21, 2018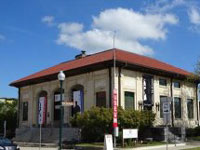 McKinney, Texas - At 6:00 p.m., Monday, May 21, Commander Jim Nichols, VFW Lone Star Post 2150 will present a check to Mary Carole Strother, Executive Director of the Collin County History Museum, on the steps of the museum at 300 E. Virginia St. in McKinney. The $5000 donation comes from the proceeds of Post 2150's eighth annual golf tournament, which was held at El Dorado Country Club in late April. Commander Nichols says that this is a way of saying "Thank you!" to the great staff and volunteers of the museum, who in the past three years have honored veterans by presenting a superb Vietnam War exhibit and are currently featuring a great exhibit of World War I.

Lone Star Post 2150 is the second oldest Veterans of Foreign Wars post in Texas and has a long history of community service to the City of McKinney. Proceeds from previous golf tournaments have resulted in donations of over $30,000 to the Veterans Memorial Park in McKinney. At this year's Special Olympics, volunteers from the post made and served 1800 hot dogs. In the past few months the post has served free lunches to McKinney policemen and deputies of the Collin County Sheriff's Department. "Bikers for Boobies" raises thousands of dollars annually for the Susan G. Koman cancer fund and this year's Toys For Tots raised over $14,000 in cash and hundreds of toys for needy children of Collin County. An undisclosed amount of money is given to needy veterans and their families throughout the year.

Lone Star Post 2150 is the home of some very friendly folks and any qualified veteran is welcomed and encouraged to become a member. The post is located at 1710 North Church St. in McKinney. You can't miss it. It has a big WWII Army tank sitting in the parking lot.