Lifestyles
Sherman Community Players present Grease: The Musical!
Jun 21, 2018
Book, music, & lyrics by Jim Jacobs and Warren Casey
Directed by Anthony Nelson
Music direction by Fred Freeman
Choreographed by Katreeva Phillips
Playing June 1-24
The Sherman Community Players are gearing up for the last show of the 69th season with the ever-popular Grease book, music, & lyrics by Jim Jacobs and Warren Casey, additional music by Barry Gibb. Come relive your childhood with the students of Rydell High class of 1959.
Full of the music everyone loves, this interpretation of Grease is sure to be fresh and bold. Choreographer by Ft. Worth artist Katreeva Phillips, audiences will be in awe of the energy Grease produces on the stage, and patrons will feel like dancing in the aisles of the Historic Finley Theater.
(L-R) – Rudy Reynoso, Dylan Horton, Branden Wood, Matt Maxwell, Connor Horsley, Eric Vest
Rounding out the sixty-ninth season and kicking off the 70th anniversary season, SCP has ambitiously decided to produce all musicals during the 2018-19 season. In October, Little Shop of Horrors, Annie for the December Christmas production, The Music Man in February, The Drowsy Chaperone returns to the stage in April, and West Side Story will close the 70th season in collaboration with the Sherman Symphony Orchestra, in the eloquent Kidd Key auditorium. Season 70 marks an incredible milestone for the "players" – and all the musicals except from West Side Story are revivals from the recent past of SCP.
Call the box office at 903-892-8818 or visit the website at www.scptheater.org to make reservations. Adults tickets are $20 and students are $12. Grease will play almost the entire month of June in Sherman.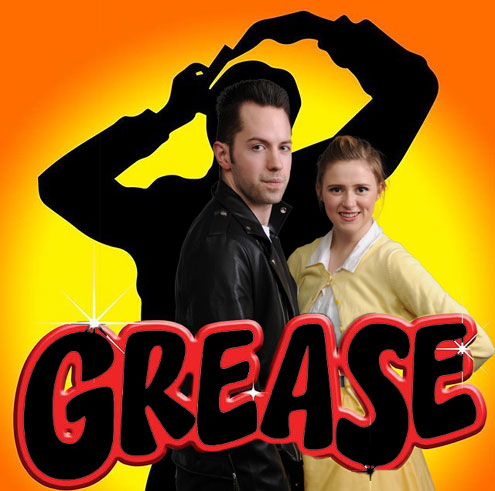 (L-R) Matt Maxwell (Danny Zuko) and Hannah Posner (Sandy)