Front Page
The Short Story of Harry Peyton Steger: chapter 30
May 14, 2018
The Letters of Harry Peyton Steger make note of several memorable Christmas holidays, as the young scholar made his way from Fannin County to Austin, Texas, then to Germany, then England and finally New York City.
Harry's first Christmas in the Big Apple was 1907. He had to write home and explain to his family that it wouldn't be right to accept any gifts because he couldn't afford to buy any.
"I shall not be able to make it home for Christmas," Harry wrote to his father, Bonham attorney Thomas P. Steger, on December 11, 1907. "Perhaps later in the year I shall drop south for a week or so; that is, if I get to where I can pay my own transportation charges back again. I assure you I do miss the possession of money. The pecans still hold out. They are fine. Don't, don't, don't think of sending me any Christmas presents, any of you. Make it a card. That is what I shall have to do. Seriously."

The New York City skyline in 1908. Library of Congress Prints and Photographs Division
Things were about to change.
By the Christmas season of 1908, Harry was well on his way to earning a reputation as one of the brightest young publishers on the East Coast, thanks to his position as literary advisor for Doubleday, Page & Company.
Earlier in Steger's life, every thought seemed to work its way into his copious letters. Now every waking moment was filled with applying his understanding of people and literature to the vast resources available at Doubleday, Page & Company. The paradox with telling this story is that, just as we reach the most interesting phase of Steger's life, there isn't any mention in his collection of letters that tells when he was actually hired at Doubleday, Page & Company, when or how he met his wife, or when he first began piecing together the story behind his new firm's mysterious short-story writer, O. Henry.
Steger's letters indicate he was still employed by Frederick Stokes Company in May of 1908. Responsibilities were increasing dramatically, although the salary was still a touchy subject.
"I am now the chief executive in the office, having entire charge of the internal administration of affairs," Harry wrote to his family on May 3, 1908. "I have under me now three stenographers, several office boys and a varying number of girls who address our circulars and pamphlets. In addition to this executive work, I write our literary bulletins for the newspapers, interview authors who come into the office with manuscripts and draw up suggestions for advertising schemes of different sorts. My salary is, of course, much smaller than I might get in teaching; even smaller than I could command as a freelance journalist; but there is on the other side the great advantage of practical experience and intimate contact with the business of journalism. I am as much an idealist as I ever was, and work hard because I love my work. Last week Arthur Page invited me to luncheon at The Vagabonds' Club. This is an association of magazine editors and writers, artists, etc. The guest on the day I lunched there was Andrew Carnegie."
But there was more to this letter than describing the workday. These were unsettled times in New York City, as a quarter of a million people in the city struggled to find work. A bomb exploded during a demonstration by socialists at Union Square on March 28, 1908 and the incident made headlines in newspapers across the country.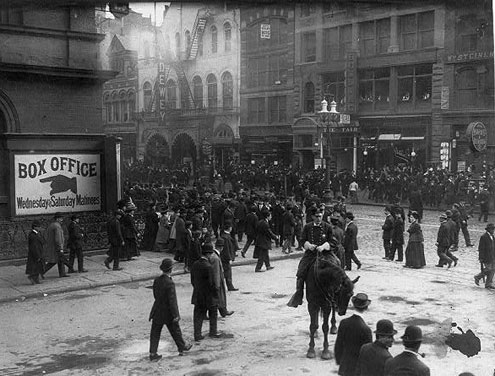 NYC Police disperse Union Square crowd following the bombing. George Grantham Bain Collection, Library of Congress Prints and Photographs Division
Back in Fannin County, Thomas Steger believes he spots Harry in a newspaper photograph from the disturbance that left a would-be bomber dead at Union Square.
"Although I am undoubtedly socialistic in my tendencies and would have been at Union Square if I had not been so busy in the office, I was as a matter of fact not present, and so the likeness of me that Dad has called to my attention is an accident and not a photograph," Harry wrote home. "That whole affair, by the way, was a sad fiasco on the part of the police. It was not intended in any way to be a violent demonstration. Real socialists are very mild people, full of dreams for the betterment of humanity and full of sympathy for the downtrodden members of a capitalistic society. The poor fanatic who wanted to kill the police only succeeded in killing himself. Evidence shows that he was absolutely without connections with any of the socialistic organizations and was only, in his poor, demented soul, trying privately to express his own disgust."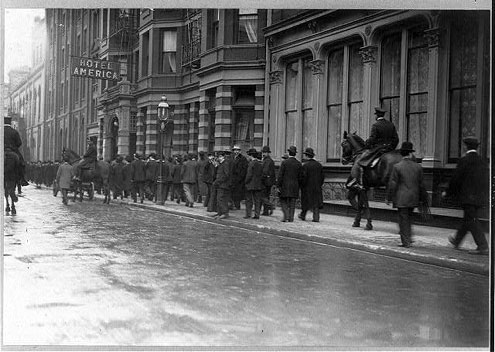 Police escort crowd away from Union Square. George Grantham Bain Collection, Library of Congress Prints and Photographs Division
Harry Peyton Steger's big break occurred sometime during the summer of 1908, just over a century ago, when his entry into an elite circle of East Coast publishers came as a result of Steger's enduring friendship with Arthur Page. Harry's literary skills intrigued Arthur's father, Walter Page, enough that he hired the displaced Texan. For a young man of Steger's ilk, with dreams of making his mark in the publishing world, there could be no better mentor than Walter Page.
The senior Page was partner and vice president of Doubleday, Page & Co. Although The Letters of Harry Peyton Steger don't give an exact date that Steger went to work for Doubleday, Page & Co. as a literary advisor, there was an interesting letter to Lomax on September 17, 1908. It seems Dr. S.E. Mezes was paying a visit to Walter Page when one of the men happened to mention Harry Peyton Steger.
"My name chanced to come up in their conversation, whereupon Page said: 'He's upstairs,' and sent for me," Steger relayed to Lomax. "We had a chat of some 30 minutes and Dr. Mezes sped onward to St. Louis where he was to meet Dr. Houston."
Walter Page, in addition to being a noted journalist and publisher, would soon be President Woodrow Wilson's choice as ambassador to the United Kingdom during World War I. Dr. Mezes was president of the University of Texas. Dr. Houston was the former president of Texas A&M and later the president of UT. Houston had written the Bonham school board in 1902 to implore them to hire Harry Steger to teach Latin.
Dr. Houston left the University of Texas in 1908 to serve as chancellor at Washington University in St. Louis. President Wilson tapped David F. Houston to be Secretary of Agriculture in 1913 and Houston later served as Secretary of Treasury in 1921.
Not bad company for Steger, a boy who grew up walking the dirt streets of Bonham.
Previous Steger articles:
http://www.ntxe-news.com/artman/publish/article_110485.shtml
http://www.ntxe-news.com/artman/publish/article_110483.shtml
http://www.ntxe-news.com/artman/publish/article_110478.shtml
http://www.ntxe-news.com/artman/publish/article_110479.shtml
http://www.ntxe-news.com/artman/publish/article_110480.shtml
http://www.ntxe-news.com/artman/publish/article_110481.shtml
http://www.ntxe-news.com/artman/publish/article_110482.shtml
http://www.ntxe-news.com/artman/publish/article_110486.shtml
http://www.ntxe-news.com/artman/publish/article_110487.shtml
http://www.ntxe-news.com/artman/publish/article_110489.shtml
http://www.ntxe-news.com/artman/publish/article_110490.shtml
http://www.ntxe-news.com/artman/publish/article_110491.shtml
http://www.ntxe-news.com/artman/publish/article_110520.shtml
http://www.ntxe-news.com/artman/publish/article_110521.shtml
http://www.ntxe-news.com/artman/publish/article_110522.shtml
http://www.ntxe-news.com/artman/publish/article_110523.shtml
http://www.ntxe-news.com/artman/publish/article_110596.shtml
http://www.ntxe-news.com/artman/publish/article_110597.shtml
http://www.ntxe-news.com/artman/publish/article_110598.shtml
http://www.ntxe-news.com/artman/publish/article_110599.shtml
http://www.ntxe-news.com/artman/publish/article_110600.shtml
http://www.ntxe-news.com/artman/publish/article_110601.shtml
http://www.ntxe-news.com/artman/publish/article_110602.shtml
http://www.ntxe-news.com/artman/publish/article_110606.shtml
http://www.ntxe-news.com/artman/publish/article_110607.shtml
http://www.ntxe-news.com/artman/publish/article_110608.shtml
http://www.ntxe-news.com/artman/publish/article_110609.shtml
http://www.ntxe-news.com/artman/publish/article_110610.shtml
http://www.ntxe-news.com/artman/publish/article_110611.shtml
http://www.ntxe-news.com/artman/publish/article_110612.shtml