Front Page
The Short Story of Harry Peyton Steger: chapter 29
May 11, 2018
The Short Story of Harry Peyton Steger finds the Bonham High School graduate and Rhodes Scholar bracing for the winter of 1908 in New York City and finally beginning to climb the career ladder.
The life of a writer, it turns out, really wasn't that different 100 years ago.
"Barry Benefield is one of the best men on the New York Times," Steger tells John Lomax. "I can afford to eat one meal a day where he can afford to eat two."
Steger's latest project had involved visiting his childhood friend Erwin E. Smith in Boston where Smith was studying sculpture. Popular filmmakers and authors were churning out romanticized versions of cowboy life, while Smith felt compelled to accurately depict the daily work of cowboys on the few remaining big ranches out west before the large cattle operations were carved up into small farms and homesteads. Steger could see the value of Smith's project.
"Do you remember a boy at Bonham--Erwin Smith by name--who played cowboy all the time?" Steger wrote and asked Bedichek. "He is making an artistic record with the camera of the cowboy life that I believe will be of prime value."
Today, the Amon Carter Museum maintains the Erwin E. Smith Collection. (http://www.cartermuseum.org/collections/smith/)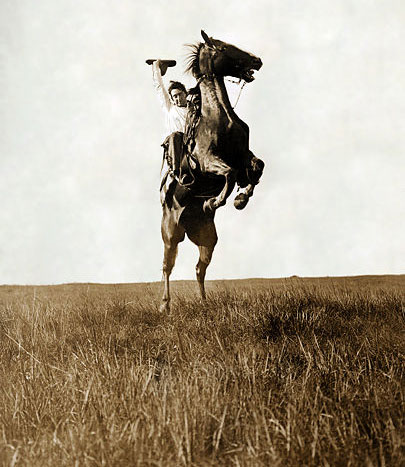 Photographer Erwin E. Smith riding a sunfisher, and he is not pulling leather, Bonham, Texas, 1908. Copyright 1909 by Erwin E. Smith, Bonham, Texas
Steger had written articles about Smith's attempt to document an honest portrayal of a disappearing way of life, but evidently Lomax and Roy Bedichek weren't impressed.
"You and Lomax jump on a fellow's article quite amusingly," Harry wrote to Bedichek. "The justice of your jump makes it no less amusing. You attack a serious effort and bring all your guns to bear; but the thing you shoot at is a flimsy, thin fabric put together overnight by an overworked man who has long since a subway complexion, a telephone voice, and a noisy, restaurant appetite. You know how adaptable I always was. You raise the quibble over my statement over the poems you and Lomax visited upon me in B Hall. It is immaterial whether they were yours or Browning's. You and he took yourselves more to heart than you ever did Browning; and he was least important to your souls when you declaimed and adored him.
"You, both of you, have a literary finish and a fertility of reference to which I shall never mount; so let it go at that. You have no call to pick flaws in my logic when I have never laid logic before you. Get out of the dust heap, thou picture of impotent rage, and cease to shake thy seditious fist in the face of the spent, unseeing Rockefeller.
"If I thought either of you, myself, or both of us, strong enough to fly away and be happy, last Friday would be my landlady's final day of reckoning; but we tried it, you and I, and failed miserably. We never approached the pinnacle where money is naught. You are not less compromising than me now.
"Are you not in Eddy, where your people are, and because your people are? Are you freer in mind, soul or body, than I? If you sadden at the thought of my joining a class of expedient-servers and time-servers, what bigness of soul is it that keeps you in Eddy and there fires you to anger at the Standard Oil Company and to aversion for Rockefeller's wealth? Come on, you dear, damned fool, and be half as strong as your utterances. Then I'll leave the pay-roll and the typesetters and go with you into a rarer air.
"You are the only chance I ever had; and you are not less a slave than I. Live three months jobless in New York and friendless; then live one month jobless. This obliterates the past, even Shaw.
"Do you remember how, when you roamed off into freedom, my soul cried out that Bedi had struck the gyves from him. And then you came back to Eddy because a house burned down or a sow littered. These are not reproaches nor counter-charges; but the lamentations of myself and yourself who thought ourselves free."