Front Page
The Short Story of Harry Peyton Steger: chapter 27
May 9, 2018
When we last checked in on Harry Peyton Steger, he was enduring the winter of 1907 in New York City, living off homemade pralines and figs sent from his family in Fannin County and bracing for a cold bath each morning in the cramped bathroom down the hall from the walk-up flat he now called home. There was rarely time or money for leisure. Harry was earning $1.50 a day to read and revise manuscripts for Frederick Stokes Company and his weary head hit the pillow by 9:00 p.m. every evening.
Career possibilities weren't exactly coming up roses for Steger's close friend Roy Bedichek, either. Steger and Bedichek had tramped across Europe in the summer of 1907 in hopes of establishing a news syndicate, and subsequently failed miserably. Harry decided to make his stand in the East Coast publishing world, while Roy worked his way back to Texas.
Roy had tried his hand in real estate, farming and teaching; none had fulfilled the incessant yearning that, a decade earlier, had driven Bedichek to pen the following entry in his diary: "Today I was nineteen, I smoked my first cigar and I met a man who writes for a newspaper, and that's what I want to do." As it turned out, a career in the newspaper business was just a bicycle ride away for Bedichek. A very long bicycle ride.
One of the most fascinating features of Steger's story was how his job in the University of Texas registrar's office remained a central theme throughout his life. The UT registrar, John Lomax, had hired two bright students, Steger and Bedichek, to assist in the office. The future Mrs. John Avery Lomax, Bess Brown, was one of the managing editors Steger answered to in his early days with the UT yearbook. The future Mrs. Roy Bedichek, Lillian Greer, entered this story when she stepped into the registrar's office in 1899. The future Mrs. Harry Peyton Steger was still a decade away, however.
While this story primarily follows the short, but brilliant career of Steger, Lomax and Bedichek warrant their own story.
Bedichek would eventually become the driving force behind the University Interscholastic League as we know it now.
Lomax became a pioneering musicologist and folklorist, probably best known today for discovering a remarkable 12-string guitarist known as Lead Belly.
Steger would rejuvenate the career of O. Henry and earn a reputation as one of the brightest young publishers in the U.S.
For a time, Harry would fall, like everyone else it seems, into orbit around the magnetic personality of the hottest writer in the country, Booth Tarkington.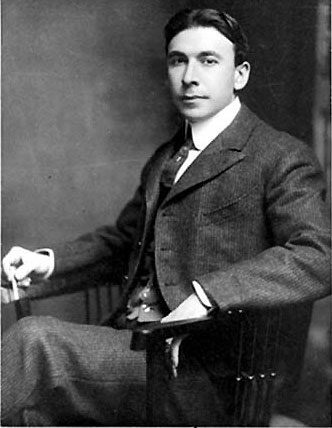 Booth Tarkington
"How I wish you knew this man Tarkington!" Steger wrote to Bedichek. "He is the most conspicuous literary figure in America--and a versatile, non-moral, friendly-age, lovable person. His bigness of body, heart and mind makes those who get around him speedily take the position of a satellite, whether they will or not, whether they know it or no. Wilson [Harry Leon Wilson] and he are writing a play. Wilson is a quiet, lonely, amiable fellow who gets Tarkington down here--away from the bottle--and patiently waits for the great man's mood to work. Then they 'collaborate.' Tarkington has the fire, the spark and the conception of beautiful charm. Wilson has the sane judgment of what will 'hit the audience' and so keeps the other man's art from being too perfect to pay."
And what did Pulitzer Prize-winning author Booth Tarkington think of Harry Peyton Steger, an 1897 graduate of Bonham High School?
"Harry Peyton Steger was the most splendid young man I have ever known," Tarkington wrote to Harry's father, Bonham attorney Thomas P. Steger. "If he had lived, he would have become the foremost publisher in America."
Previous Steger articles:
http://www.ntxe-news.com/artman/publish/article_110485.shtml
http://www.ntxe-news.com/artman/publish/article_110483.shtml
http://www.ntxe-news.com/artman/publish/article_110478.shtml
http://www.ntxe-news.com/artman/publish/article_110479.shtml
http://www.ntxe-news.com/artman/publish/article_110480.shtml
http://www.ntxe-news.com/artman/publish/article_110481.shtml
http://www.ntxe-news.com/artman/publish/article_110482.shtml
http://www.ntxe-news.com/artman/publish/article_110486.shtml
http://www.ntxe-news.com/artman/publish/article_110487.shtml
http://www.ntxe-news.com/artman/publish/article_110489.shtml
http://www.ntxe-news.com/artman/publish/article_110490.shtml
http://www.ntxe-news.com/artman/publish/article_110491.shtml
http://www.ntxe-news.com/artman/publish/article_110520.shtml
http://www.ntxe-news.com/artman/publish/article_110521.shtml
http://www.ntxe-news.com/artman/publish/article_110522.shtml
http://www.ntxe-news.com/artman/publish/article_110523.shtml
http://www.ntxe-news.com/artman/publish/article_110596.shtml
http://www.ntxe-news.com/artman/publish/article_110597.shtml
http://www.ntxe-news.com/artman/publish/article_110598.shtml
http://www.ntxe-news.com/artman/publish/article_110599.shtml
http://www.ntxe-news.com/artman/publish/article_110600.shtml
http://www.ntxe-news.com/artman/publish/article_110601.shtml
http://www.ntxe-news.com/artman/publish/article_110602.shtml
http://www.ntxe-news.com/artman/publish/article_110606.shtml
http://www.ntxe-news.com/artman/publish/article_110607.shtml
http://www.ntxe-news.com/artman/publish/article_110608.shtml
http://www.ntxe-news.com/artman/publish/article_110609.shtml