Front Page
The Short Story of Harry Peyton Steger: chapter 26
May 8, 2018
In our last installment, Harry Peyton Steger was on his way to
Boston
to visit an old friend from
Fannin
County
, Erwin E. Smith, who happened to be studying sculpture in
Boston
during the fall of 1908. In a letter to Roy Bedichek, Steger asks "Bedi" if he remembers a boy from Bonham who was always playing cowboy.
Of course, Steger and Bedichek had a long history dating back to their early years at The University of Texas, but it is interesting that Smith and Bedichek evidently also knew each other as young men.
Bedichek, after an interesting sojourn to the untamed territory of New Mexico, would go on to be the driving force behind UIL as we know it today. Steger would take his place as a rising star in East Coast literary circles. And Erwin E. Smith was on his way to becoming one of the preeminent photographers of the rapidly fading American West.
Even in 1908, Steger knew Smith would be remembered for documenting a dying way of life--the life of a cowboy. Between 1905 and 1912, Smith used photography to capture the daily life of cowboys working roundups and breaking horses on the big ranches in Texas, New Mexico and Arizona.
According to the Amon Carter Museum website, "Smith's photographs, showing both the romance and harshness of cowboy life, are some of the best-known images of the southwestern range early in the last century."
One hundred years ago, Steger already understood the value of Smith's artistry with the lens.
"He [Smith] is making an artistic record with the camera of cowboy life that I believe will be of prime value," Steger predicted in a note to Bedichek back in 1908. "I go up to Boston--where he is now an art student--this week to go over material."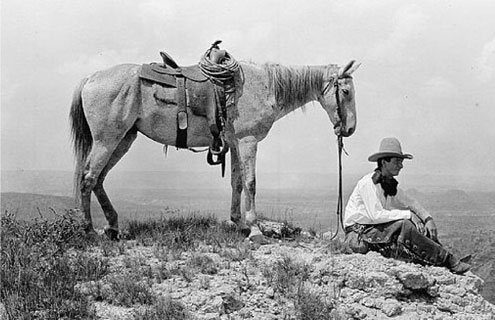 photo courtsy of Amon Carter Museum of American History
What Steger failed to mention is that, long before he was attending New York Metropolitan Opera performances, he enjoyed playing cowboy himself.
In Life on the Texas Range, J. Evetts Haley tells how deeply Western culture affected Smith and Steger as they grew up in turn-of-the-century Fannin County. Many of the facts and quotes Haley uses comes from a Holland's Magazine article written in 1909 by Steger, called "A Texas Boy in Boston and his Western Work."
Among Erwin's closest boyhood friends was Harry Peyton Steger. Steger, who gained youthful fame in the literary world, recalled that when the two met at Bonham, Erwin "wore the nine-year-old boy's terrific adaptation of what his vivid imagination tells him cowboys wear."
These two youngsters grew up in Bonham together, in a country that was, as Steger said, "well out of the geography of cowboys, but well within the circle of true Western atmosphere." On Saturdays the Bonham square was crowded with covered wagons from the country. The heavy air buzzed with soft Texas voices and tinkled as with tiny bells as many teams stood in their chain harness and persistently switched at flies. There were no cars, but boys then had horses.
Steger told of the times when he and Erwin, "constantly in a state of insulting challenge against those other presuming young gentlemen who owned steeds thought to be wind-speedy," rode through Bonham with abandon. It was then a joyous thing for recklessly riding men of 12, imaginary six-shooters on their hips and the dangerous trail before them, to jog through the throng and then whip the air into a breeze, full in their faces, as they raced out of town for the open country, Harry Peyton urging on Lady Gray, pitted against Erwin proudly mounted on Sir Black.