Front Page
The Short Story of Harry Peyton Steger: chapter 23
May 3, 2018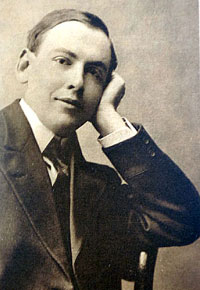 It was the autumn of 1907 and Harry Peyton Steger was something of an arriviste in the
New York
literary circles, a wildflower seed that had slipped from the beak of a migrating bird that would now try to take root in the cultured rose gardens of
New York City
.
Young Steger would prove to be resolute and stalwart in the pursuit of his ambition to secure employment in his chosen field of literature, although the endeavor required precious time, a great deal of patience and a rather circuitous route. Friends were taking their place in the world, with the lone exception of his closest friend, Roy Bedichek. All the old cohorts from those glory days in Austin were matched up in blissful matrimony, again, save Bedi, who was back home in Eddy, Texas where he was exchanging occasional letters with Lillian Greer in nearby Waco and awaiting his own next big adventure.
Steger was alone and penniless in a cold city. Those warm and inviting streets of Austin were almost two thousand miles to the south. His family was fifteen hundred miles away in Fannin County. It wasn't supposed to happen like this. Maybe the best chapter in the short story of Harry Peyton Steger was how he made it happen, anyway.
Evidently, the last time Steger and Bedichek would ever see each other was in Canada and it was under less than pleasant circumstances.
"My poor struggling, starving, hunted Bedi!" was how Steger began his first letter to Bedichek following what seemed to be an unnerving experience the two men shared shortly after arriving in Canada from Scotland. "I came nearer weeping tears of blood those last few hours of your incarceration than ever before in my life. Stranded in Montreal with another of God's creatures, I should never have found myself out there in those woods, nor have laughed as I did over our flight from the city and men. What a blessed spot that was! Your wire of Felix's (Felix E. Smith of San Angelo, Texas) response, the beautiful little picture-postcard of one of New York's most attractive sights and the scribbled note with enclosure of my check and key came to me here and, like the pistol and plank from a blood-stained floor, brought into court as evidence of murder, told me of the robbery, high treason and cruelty my own silence must have meant to you. As a matter of fact, I wired you at Montreal about eleven o'clock in the morning following my arrival here."
The first challenge for an unemployed and unknown writer in New York was to secure a place to reside while he shopped around his work in hopes of locating a publisher willing to subsidize a project.
As fate would have it, Hutchins, a former associate from Oxford who now lived close to New York, needed company. And, boy, did Steger ever need a friend that needed company!
"Hutchings met me at the station the night of my arrival and brought me out to Englewood, New Jersey where he has a beautiful cottage," Steger wrote to Bedichek. "He is so lonely and he has given me such a welcome that I shall stay here at least a month before I shall begin to think that he is another victim. Hutchings has all of Ibsen, all of Shaw, most of Tolstoy; and it is the essence of bliss to sit reading at the window, occasionally reassuring myself by a glimpse at the resting scenery that I am no longer on boat, train, streetcar, ferry or whatnot in the way of a vehicle--that trees and grass and riverbanks are actually still. I am so tired of traveling. And yet--there is no evil that endureth. Hutchings understands thoroughly my material worthlessness and has, I say, been lonely in the big house--so there is actually no new victim under the wheels of my car. May you and I never attempt again to reach a whimsical destination on mystic resources."
Previous Steger articles:
http://www.ntxe-news.com/artman/publish/article_110485.shtml

http://www.ntxe-news.com/artman/publish/article_110483.shtml

http://www.ntxe-news.com/artman/publish/article_110478.shtml
http://www.ntxe-news.com/artman/publish/article_110479.shtml
http://www.ntxe-news.com/artman/publish/article_110480.shtml
http://www.ntxe-news.com/artman/publish/article_110481.shtml
http://www.ntxe-news.com/artman/publish/article_110482.shtml
http://www.ntxe-news.com/artman/publish/article_110486.shtml
http://www.ntxe-news.com/artman/publish/article_110487.shtml
http://www.ntxe-news.com/artman/publish/article_110489.shtml
http://www.ntxe-news.com/artman/publish/article_110490.shtml
http://www.ntxe-news.com/artman/publish/article_110491.shtml

http://www.ntxe-news.com/artman/publish/article_110520.shtml
http://www.ntxe-news.com/artman/publish/article_110521.shtml
http://www.ntxe-news.com/artman/publish/article_110522.shtml
http://www.ntxe-news.com/artman/publish/article_110523.shtml
http://www.ntxe-news.com/artman/publish/article_110596.shtml
http://www.ntxe-news.com/artman/publish/article_110597.shtml
http://www.ntxe-news.com/artman/publish/article_110598.shtml
http://www.ntxe-news.com/artman/publish/article_110599.shtml
http://www.ntxe-news.com/artman/publish/article_110600.shtml
http://www.ntxe-news.com/artman/publish/article_110601.shtml
http://www.ntxe-news.com/artman/publish/article_110602.shtml