Front Page
The Short Story of Harry Peyton Steger: chapter 8
Apr 12, 2018
People and places changed quickly in Steger's life, as he raced the sand pouring out of his hourglass.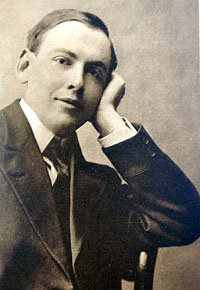 In 1902-03, he taught Greek and Latin at Bonham High School; in 1903-04, Steger was Fellow in Greek and Latin at the University of Texas. In the fall of 1904, Harry had moved on to do graduate work in Greek, Latin and Sanskrit at Johns Hopkins University in Baltimore, Maryland and February 1905 found Steger substitute teaching Greek and Latin at Baltimore City College. His passion for "dead and dying languages" was now putting five dollars per diem in his pocket.

Steger's professors at the University of Texas had been pointing their prodigy towards the hallowed halls of Harvard. The first mention of Johns Hopkins came in a letter to Roy Bedichek dated October 1903. Bedichek, Steger's close friend and first roommate in Austin, had graduated from UT and was now teaching high school in Houston. In the letter, Harry was lamenting the fact that even when he had good news, there was no longer anyone around he cared to share it with.

"If you were here," Steger notes, "I could say, 'Bedi, Dr, Fay told me yesterday that he wanted me to go to Johns Hopkins, so that I could remind his former associates of what he was capable'; or 'Bedi, Dr. Penick says that my translations of Aristophanes are as rich as old Dr. Gildersleeve's' -- You know what I mean."

Harry "stood the exams" to qualify for the Cecil Rhodes Scholarship in the spring of 1904.

"I probably busted," Steger tells Bedi. "I was too bull-headed and too harassed to study in preparation; and I'll probably remain indefinitely in this country, because I like to play the damn fool role in mine own land."

After the spring semester at UT in 1904, Harry came home to Bonham to find his father, attorney Thomas P. Steger in poor health. Then more bad news; Harry failed to secure the first Texas Rhodes Scholarship.

John Lomax had written from Cambridge, Massachusetts to see how Harry was taking the setback.

The reply to Lomax told of Steger's pragmatic approach to the development.
The matter on which you write hit me pretty hard at first, but I got over it finally with little anguish and no damage to my morals. On Wednesday, Commencement Day, I was castigated sorely by the tongue of . . . I realized that something in the way of a miracle might keep my stock from suffering a slump, but that nothing short thereof could. My first move was to come home to Ma and Pa and attempt to study law. I didn't move very far this time.

I go to Hopkins next session, unless the Guatemalan ant is defeated in his encounter with the cotton-iverous weevil. Harvard is attractive, but the die is cast and I'm going to stick to its decision, even though ten thousand Solons tell me it is unwise. I had rather be my own wrong than somebody else's right! I said that, not because I felt it at all, but because it seemed so epigrammatic. Ain't it a daisy? I wish I believed it, so that I could use it again.

England appealed to me for the classics because somehow I felt that there a fellow could make his studies in Greek and Latin smell more of the violet, while over here it's the odor of the lamp that sticks to you. However, that's ancient history, and I don't give a rip.
So, in the summer of 1904, Steger played tennis in Bonham every day and imagined how he could spend evenings with Charlie Thurmond, the lovely, petite daughter of P.C. Thurmond, Thomas P. Steger's law partner. Miss Charlie started her higher education at UT and finished up at Vassar. Harry entered the University of Texas as a fresh-faced 15-year-old, "donning long trousers for the occasion," and went on to study at Johns Hopkins and Oxford.
They seemed destined to be together.
It is as easy to imagine the stimulating conversations these two budding intellectuals must have had on the front porch of the Thurmond home on West 5th Street in Bonham, as it is difficult to understand why a more permanent bond failed to develop.
Perhaps the answer would be revealed in Charlie's letters, if they only existed. Harry's letters during this timeframe are something of a paradox.
"I only wish that I had stayed in Austin," Steger writes to Edgar Witt, a close confidante that would later become Lieutenant Governor of Texas. "There I knew it was impossible to see her, as long as she was in Bonham; but here I know that she is eight blocks from me."
A week later, on June 29, 1904, in another letter to Witt, Steger adds, "I have absolutely no troubles in the world, save my father's health and the natural embargo that the inquisitive population of a small but thoroughly alive and interested hamlet puts on my natural inclinations. To cease riddling, I mean that I find it difficult to see as much of Charlie as I would wish."
The next mention of Miss Charlie comes August 14, 1904 when Harry tells Witt that it will be easy to leave home now because "Charlie leaves for St. Louis the last of this week."
The late Tom Scott, a preeminent local historian and a valuable reference source throughout this project, vividly remembered Charlie Thurmond as a charming, well-read, elegant lady who enjoyed a leadership role in various ladies clubs in Bonham. Miss Charlie never married, a fairly common occurrence among highly educated, somewhat aristocratic late-19th century women, Mr. Scott adds. He even remembers a stately, black automobile that Charlie drove around town.
Thanks to librarian Barbara McCutcheon and the amazing staff at Bonham Public Library, a photo of Miss Charlie surfaced.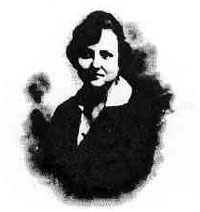 At age 35, Charlie was an attractive lady, dark-haired with a serene smile. The photo was on a passport issued in May of 1920. Charlie was sailing out of Montreal to spend the summer in Italy, France and Belgium.

Did she ever sail back into Harry's life?

It seems unlikely.

An actress named Dorothy "Dolly" McCormack eventually became Mrs. Harry Steger.

And when Charlie posed for the passport photo, Harry had already been dead seven years.

What we do know from looking at old Bonham Daily Favorite articles is that Miss Charlie was fatally injured December 28, 1955 when her car careened across Catron Park and slammed into the sidewalk.

Frank Doss was the first person to arrive at the scene of the accident and Mr. Doss assisted in placing Charlie in the Wise ambulance which transported her to M&S Hospital where she died the following day.

And we know that from Charlie's final resting place in the Thurmond family plot at Willow Wild Cemetery, a glance 50 yards to the south will reveal a headstone that reads Harry Peyton Steger.

To be continued...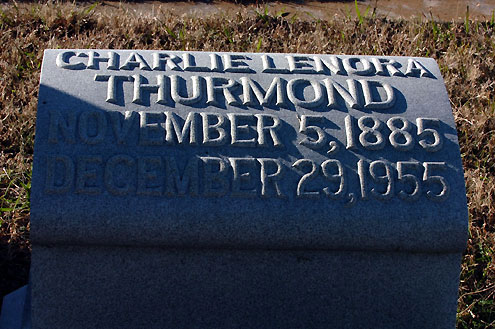 The Thurmond family plot is next to another one-time law partner of P.C. Thurmond, Sam Rayburn.
Previous Steger articles:
http://www.ntxe-news.com/artman/publish/article_110485.shtml
http://www.ntxe-news.com/artman/publish/article_110483.shtml
http://www.ntxe-news.com/artman/publish/article_110486.shtml