Front Page
The Short Story of Harry Peyton Steger: chapter 5
Apr 9, 2018
A century ago, When Harry Peyton Steger returned to Bonham to teach school for one year, many of the sights awaiting the 20-year-old UT grad would have are the same scenes still in place today. North Texas towns struggle to hold onto their legacy as familiar landscapes give way to urban sprawl, but it is interesting to note how much of Harry's hometown has remained historically intact.
Steger most likely disembarked at the railroad depot, the center of travel in 1902 and perfectly preserved today as the Fannin County Museum of History. If Steger traveled up Center Street, the buildings on the east side of the Bonham Square looked very similar to the way they appear today.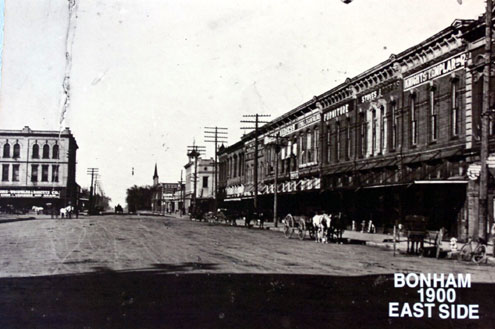 East side of the Bonham Square - photo courtesy of Fannin County Museum of History
According to research by the late Tom Scott, former Director of the Fannin County Museum of History, the center portion of the east side of the Bonham Square was constructed from materials purchased by the Ewing brothers when the 1860 Fannin County Courthouse was torn down to make way for the larger 1888 version.
Dominating the square in Steger's day was the majestic courthouse that county residents have now voted to restore.
The town looks surprisingly similar to the way it appeared a century ago and the same could probably be said for the job Harry was in Bonham to tackle.
"To be a successful high school teacher," Steger writes to E.R.P. Duval, "a man should be the happy combination of billy goat and mule -- so that he can butt with one end and kick with the other."
Evidently, some parents had reservations concerning the brash, young teacher's tactics.
"I have just had a thrilling experience with an antiquated carbuncle, the bleak and barren exterior of whose head was equaled only by its bald and resounding interior," Steger wrote Bedichek. "He thought I had been cruel in my physical treatment of his offspring. He said -- with tears in his eyes, as he swallowed a large lump of imaginary something -- that he wanted to see me personally. I told him I was glad of it; that if he had asked to see me any other way, I would scarcely have known how to arrange it. He then said that he thought it rather contrary to good usage to write one's monogram on a victim's cuticle in characters that could not be erased. I replied, slapping him cordially on the back with a baseball bat which I chanced to have in my hand, that characters of this sort were the only ones which either he or his offshoot could ever expect to possess."
Another glaring difference between then and now, in addition to parent - teacher etiquette, was the Christmas break students and faculty received in 1902.
"It was decided to continue our educational plant in full blast until the night before Christmas, when all through the house not a thing was stirring, not even a mouse," Steger tells Bedichek. "To paraphrase, my holidays will not begin until the 25th."
The reason Harry was back in town had something to do with how he had left, originally. Steger had been allowed to enter the University of Texas as a 15-year-old. After completing his preliminary studies and teaching in Mineola for a year, his professors in Austin had plans for Harry to get his master's degree from Harvard. But first, they suggested, Harry should teach for another year.
Steger's first letter from Bonham to Bedichek was dated November 23, 1902 and it seems the BHS Greek teacher was also on the editorial staff at the "great Daily Bazoo" where evidently material was scarce; Harry asks his friend to forward everything Steger had written that Bedichek could lay hands on.
Mayor Bradley, the county judge in 1902, had Harry taking care of his horse.
"I drive him every day or so," Steger notes, "feed him likewise; curry him, never."
Evidently, Harry's thoughts never stray far from a young lady named Eula, although it sounds as though she is far from Bonham.
"I have existed Eulaless for many a week now," Harry writes Bedichek, "and, as yet, have not contemplated self-destruction -- i.e., not with that as a provocation."
Harry asks Bedichek to hurry down to Corner & Fontaine's in Austin to pick up a dozen or so little leather footballs, provided the items can be procured for 10-15 cents apiece.
"Sister is to fete the fete-ball team," Steger explains. "I suppose Fontaine will send them C.O.D., for of course you won't have $1.50. Cuss and fume, but nathless act. Why don't you write a letter couched in English which I can show somebody?"
Several of Steger's notes offer glimpses into early 20th century Bonham.
"One of Bonham's society women has recently met with a great loss," Steger writes Bedichek. "She was so injudicious as to put fifty dollars in greenbacks into her drop-stitch stocking for safe-keeping; and the entire amount worked out through the meshes."
"About a year ago Miss_____, a prominent belle of Bonham, was so unfortunate as to stick a needle into her side," Steger says in the next paragraph. "Physicians were unable to remove it. A few days since, a needle worked out into the arm of Mr. Charles Lansey. Mr. Lansey has been assiduous in his attention to Miss_______."
When the school year was over, Steger penned his apparent replacement, W.H. Thomas, a resident of Winchester, Texas.
"My dear Fritz, Superintendent Evans of Bonham has just written me that you had been elected at home with a salary of $75 per month. I am sincerely glad to hear of it, for many reasons; one of them being that I worked hard with my Latin classes there last year, and I would take it much to heart for an ignoramus to fall heir to them. Another is that I think you will have less work and more interesting work at home than you had at Cuero. Don't, O don't refuse to accept the place. I feel sure that you will have a pleasant year."
Previous Steger articles:
http://www.ntxe-news.com/artman/publish/article_110478.shtml
http://www.ntxe-news.com/artman/publish/article_110479.shtml
http://www.ntxe-news.com/artman/publish/article_110480.shtml
http://www.ntxe-news.com/artman/publish/article_110481.shtml
http://www.ntxe-news.com/artman/publish/article_110482.shtml