Front Page
The Short Story of Harry Peyton Steger: chapter 4
Apr 6, 2018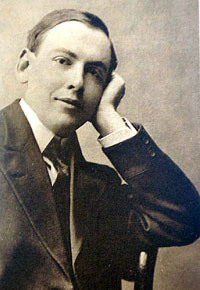 The year was 1902. Harry Peyton Steger had already graduated from Bonham High School, completed his preliminary studies at the University of Texas and served as principal at Mineola High School where he also taught Latin and Greek. His advisors at UT felt there was one problem; Harry was still only 20 years old.
But all had arrived at the same conclusion. Steger could teach one year at Bonham High School and return to Austin to take a fellowship in Greek at UT for another year. By then, Harry would be 22 and primed for advanced studies at Harvard.
"I have plenty of time," Harry had written from Austin to his father, Thomas P. Steger in Bonham. "In fact, all the professors I have consulted tell me that a fellow makes a mistake in completing his education too soon; that the older he gets the more he gets out of his work; that twenty-seven is young for a man to leave college for good. Tell mama that she has not written me for an age. I suppose she knows it, but I want to put in formal complaint against such treatment."
Another letter Harry wrote to his father in the months before arriving in Bonham to teach Greek for the 1902-1903 school year is chock full of local history.
"Will you please look over Nunn & Jones' stock of Stein-Bloch clothing, and tell me what you think of it, and get the boys to quote me some prices? I will be willing to leave, to a great extent, the matter of selection to their taste. I intend to buy me a new suit soon, as my winter weights are becoming quite uncomfortable, besides not giving me that business-like appearance I studiously seek to put on in my present 'situation,' and I am of the opinion that I can select the same suit in Bonham for a few dollars less than it would cost me here, besides patronizing friends."
Apparently, like many parents of college-age youngsters, the Stegers felt their son's appearance had slipped a bit during his college years. Judging by Harry's reply, Bonham lawyer Thomas Steger had addressed the subject at great length in a previous letter sent to Austin.
"Your graphic description of your own personal appearance revived in me a desire to be dressed tastily," Harry responded in a letter to his father in Bonham, dated May 1902. "I have spells when I won't dress up, even when I have the clothes."
But even Harry's best clothing seemed no match for the company he was keeping in Austin, as this letter to close friend Roy Bedichek in August 1902 indicates.
"Miss Frances Waggener is about the most entertaining individual I have encountered in a tea-table fight. She's bright as she can be, and a most scientific punster. Going back, if I can borrow Edgar's cuffs, Davis' buttons, Lomax's collar and tie, Hatchitt's handkerchief, Sisk's shoestrings and stand my coat buttoned up tight over a dingy shirt once spotless."
Several of young Steger's receipts, dead soldiers as he liked to call them, are interesting glimpses into historic Bonham businesses, as well as Bonham today.
One receipt from Halsell & Caldwell noted this was the place to buy furniture, carpets and coffins. It makes one ponder if there were several merchants in town that specialized in that particular triad.
Another receipt was from Smith & Williams, a store that later became Smith, Moore & Williams and remained a local favorite until it closed October 16, 2010.
The clothes picked out for Harry by the boys at Nunn & Jones, which consisted of shirts, shoes and a hat, set young Steger back a whopping $10. It is also noteworthy that Mr. Nunn was none other than Henry Nunn, a man that would soon be on his way to fame and fortune as one of the founders of Nunn Bush Shoes, a company that has been creating shoes of distinction since 1912.
Harry's fortune was much more distant. Every letter during this period made mention of the dire finances Steger and Bedichek both were dealing with as they concluded their preliminary studies at UT. Steger's professors wanted him to teach another year to gain maturity before going off to pursue a master's degree on the East Coast, but Harry knew the job in Bonham was also important if he wanted to have the necessary funds to attend Harvard in two years.
Just before young Steger headed north to Fannin County and gainful employment as a teacher at Bonham High School, Harry and friends enjoyed one last weekend trip to the coast "at Harris Duncan's expense, praise the Lord!" Steger exclaimed. It was a memorable experience in South Texas, particularly for a boy reared along Red River.
"Every night dark clouds would come up," Steger wrote Bedichek later, "and we were so camped, with a trackless prairie between us and civilization, that it would have been well nigh impossible for us to escape a storm. The rain has been terrific. The trip has been the greatest of my life. And now the pleasure still is; for we are in the midst of old Southern plantations, whose owners have never 'reconstructed' their attitude toward strangers and visitors. Dunk's two uncles have entertained us royally. Such cordiality and hospitality I have read of, but never before experienced. I caught more fish and larger fish than any member of the party. One cut my hand as I struggled to land him. We never failed to have more fish than we could make away with, and this diet was varied by crabs and oysters. Please don't forward any more mail to Coulterville. Let it go to Bonham hereafter. I shall be there by Wednesday of next week. We leave this A.M. for Egypt, which I understand has, besides its flesh pots, a tonsorial parlor."
Egypt, Texas, named back in 1827, was settled by families from the Deep South as part of Stephen F. Austin's first and second colony of Mexico. In 1902, this was a bustling place where the rail lines intersected with barge traffic on the Colorado River. The town's name was derived from Biblical references, because early colonists raised abundant crops. This was the land of plenty. Steger's mention of flesh pots is most likely a reference to Exodus 16:3 where the Israelites, hungry in the wilderness, fondly recalled the big metal caldrons used by the Egyptians to boil meat. A tonsorial parlor would be a barbershop.
After a week of camping on the coast, it was just Harry's way of saying he was hankering for a steak and a haircut.
To be continued...
Previous Steger articles:
http://www.ntxe-news.com/artman/publish/article_110478.shtml
http://www.ntxe-news.com/artman/publish/article_110479.shtml
http://www.ntxe-news.com/artman/publish/article_110480.shtml
http://www.ntxe-news.com/artman/publish/article_110481.shtml