Front Page
The Short Story of Harry Peyton Steger: chapter 3
Apr 5, 2018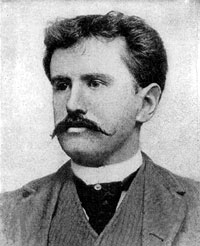 William Sydney Porter
Mention William Sidney Porter and Harry Peyton Steger and odds are no one will recognize either name. But Porter's pen name was O. Henry and he is still considered one of the brilliant short story authors in American literature. When it came time to tell Porter's own life story, he turned to his close friend, his literary executor and Fannin County's finest emissary in East Coast publishing circles, Harry Peyton Steger.
The late Tom Scott, Executive Director of the Fannin County Museum of History, was the first person I recall mentioning Harry Peyton Steger. Mr. Scott mentioned Steger was an East Coast editor (yawn) with a prestigious education (bigger yawn) from a local wealthy family (fall fast asleep).
For the most part, writers and editors occupy opposite ends of the universe, one dealing with matters of the heart and one dealing with matters at hand. In my mind, I pictured an entitled young Harry with his finely-oiled coiffure living the good life after a couple of well-placed telegraphs from daddy opened all the right doors. I have never been more wrong.
Harry Peyton Steger

Get to know Harry through comments of his colleagues and the many letters he wrote and you will discover a sincere, idealistic and imaginative writer quite capable of bringing laughter, irony and longing to life with a pen and paper.

And Steger loved adventure. He takes obvious pleasure in recounting 16 days spent walking from Queensborough to London to document the struggle of the British working class, while trying to find food and a safe place to sleep as best he could.

One modern day example keeps coming to mind: Chris McCandless, subject of the book by Jon Krakauer and movie directed by Sean Penn, Into the Wild. McCandless and Steger both admired Tolstoy. Both gave up what could have been the sheltered life of relative aristocracy for the exhilaration of, hopefully, living off their wits. McCandless traveled much of the South and West before plunging into the Alaskan Wilderness, never to come out alive.

Steger roamed around Europe with his college roommate Roy Bedichek, but Steger was alone when he began the adventure of his life in the "wilderness" that New York City must have been to a young man arriving alone in the early 1900s with no means of support. Although he performed admirably, in the end Harry didn't made it out, either.

Steger came alive in my mind when the first line of a note addressed "Dear Bedi" caught my eye from its resting place on a wall at the Fannin County Museum of History.

"It's mean of me not to loosen up and send you a little Heine or at least my interpretation of Tolstoi," the note begins. "Every night finds me resolute to do one or the other; but the weary world is too heavy for me and I sleep."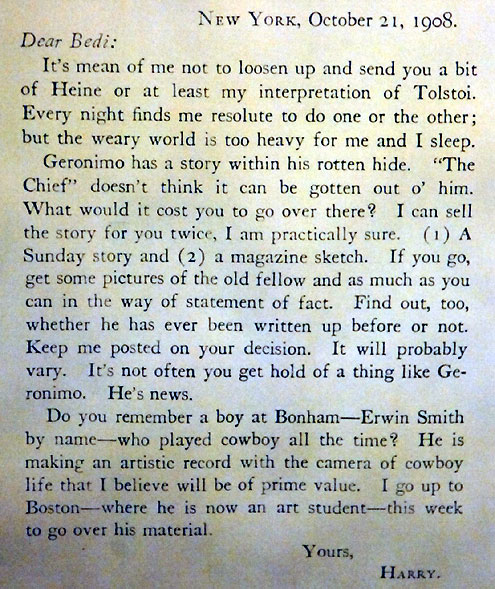 Letter from Harry Peyton Steger to Roy Bedichek
Like a largemouth bass that had inhaled a top-water lure, I was being reeled in. I continued reading as I walked closer to the note. In the next paragraph, Steger was asking Bedichek if he would be interested in interviewing Geronimo.
"It's not often you get hold of a thing like Geronimo," Steger reminds Bedichek. "He's news."
By now my face is only an inch from the note. I was a fish in the net when I read the third paragraph.
"Do you remember at boy at Bonham -- Erwin Smith by name -- who played cowboy all the time?" Steger asked Bedichek. "He is making an artistic record with the camera of cowboy life that I believe will be of prime value. I go up to Boston -- where he is now an art student - this week to go over his material."
I stepped back to digest what was contained in the brief note. Here was an 1897 Bonham High School graduate asking Roy Bedichek, a man that went on to become the second director of the UIL in 1922 and later wrote Adventures With a Texas Naturalist, if he would be interested in trying to get a good interview out of Geronimo. And it seems both men were aware of the enormous potential of Fannin County photographer Erwin E. Smith, another larger-than-life talent that went on to capture some of the best-known images of cowboys that worked the ranches out West in the early 1900s.
Easing up towards Tom Scott's desk at the museum entrance, in my most casual voice, I nonchalantly mentioned, "You know, maybe now I'd like to know a little more about that Steger fellow."
"Well, what do you want to know," Tom obliged.
What I have come to know so far is that Steger graduated from Bonham High School in 1897, entered the University of Texas as a 15-year-old with special permission from the Regents, edited the campus newspaper, The Daily Texan, as well as the campus yearbook and went on to became a Rhodes Scholar where he was elected president of the Arnold Literary Society, the largest debate club at Oxford.
The first sentence in the foreword to The Letters of Harry Peyton Steger 1889-1912 is simply remarkable, particularly knowing that John A. Lomax and Roy Bedichek were among the esteemed authors:
Many people who knew Harry Steger intimately while he was a student in the University of Texas regard him as our most gifted graduate.
And Steger, also in the foreword, summed up his richly rewarding life like this:
"Taught Greek and Latin in the Mineola (Tex.) High School one year; taught Latin in the Bonham school one year; went to Johns Hopkins University and studied Sanskrit. Went thence to Germany. Had previously passed the qualifying examination for the Rhodes Scholarship at Oxford, but was not given an appointment because I had been a naughty boy. Later received the appointment, went to Balliol College, Oxford, became president of the Arnold Literary Society there; contributed to the Oxford periodicals; traveled on the European continent; worked on a German newspaper in Cologne, Germany; went to Monte Carlo for the London Express; arrested by the Italian army (most of it) for constructing a wind-whistle on a rock in the Mediterranean; returned to London, free lanced, wrote series of stories on fat men, went to Carlsbad for my health and found it; walked from Queensborough to London, taking 16 days, begging my way and sleeping out of doors or in municipal lodging-houses; wrote series of articles describing this tramp; came to Glasgow (forgot how I managed it), sailed steerage for Quebec; scrambled on to New York. Shaved at once. Am now literary adviser to Doubleday, Page & Co.; edit Short Stories magazine and am generally active in the publishing business. Go back to Texas for a visit every chance I get. Literary executor for O. Henry."
to be continued...
Previous Steger articles:
http://www.ntxe-news.com/artman/publish/article_110478.shtml
http://www.ntxe-news.com/artman/publish/article_110479.shtml
http://www.ntxe-news.com/artman/publish/article_110480.shtml