Front Page
The Short Story of Harry Peyton Steger: chapter 2
Apr 4, 2018
News of Harry's accomplishments at the University of Texas had percolated through the local populace, passed on to area residents by the Steger family from the volume of missives mailed to Bonham from Austin.
"Did you hear Harry is president of the sophomore class at the University of Texas?"
"They say Harry is editor-in-chief of the university yearbook down there in Austin!"
In the town he always called his hometown, much was expected from young Steger and rightfully so. In due time, Harry would deliver.
But the same small town that had once offered a warm, cozy existence was now an ill fit for a 20-year-old returning in search of familiar stomping grounds for a season.
Former classmates were now consumed with the daunting task of starting careers and rearing families. Gone were all the dazzling and darling aristocratic daughters of Texas that seemed to find Harry quite the conversationalist down in Austin.
"None are intoxicating, fascinating, or calculating like the lotus to make a fellow forget his way home or anywhere else," Steger complained to Roy Bedichek about the slim prospects of the heart in Bonham. "No sylphs or nymphs among them, all mere ice cream and cold drink fiends."
Evidently, as this letter to Bedichek indicates, employment prospects for a fellow of Harry's ilk were even more dismal around the county seat.
Were you ever told to Back up and Fade Away and Do a Disappearing Specialty? I though that possibly I had better run a certain flourmill this summer, but the boss viewed me with no enthusiasm, and thought some very scathing thinks, and thunk some of them audibly. Said that Latin, and Greek, were not considered essential to the administration of such an institution. Repulsed again!!! But this rebuff is discounted by my success in the metropolis of Mineoleo-margerines. I sent them in a resignation, couched in the most flattering terms--both to them and myself--and explained what a loss they would incur by losing me, and how sorry I was, but that it was inevitable, and that their loss was someone else's gain. But horrible et mirabile dictu (ask Hargrove about this) there has ensued a most embarrassing silence -- the silence well nigh deafening in its intensity, a silence like that of the tomb. I am at a loss to tell accurately whether the dread tidings of my cruel intentions not to be with them has thrown the entire populace into a weeping and wailing and picking of teeth or whether I missed my graft, and there is to be heard the joyous tinkling of the gladsome cymbals, blending with the blithesome shouts of happiness, emanating from the Adam's-apple regions of the inhabitants of the Sandy dump of Wood county. (Don't spend too much time unraveling that sentence. Just take my word for it that it is classic.)
Actually Harry had done quite well in Mineola, where, as a mere 19-year-old, Steger was asked to teach Greek and Latin in addition to assuming the responsibilities of high school principal.
After this short and evidently very uncomfortable stay in Bonham, Steger returned to the University of Texas. However, one of Harry's mentors at UT, Dr. Battle, was suggesting that Harry teach another year to gain maturity and then Steger would most likely be appointed fellow in Greek. The following year, Dr. Battle explained, Harry would be ready for Harvard.
In Austin on April 15, 1902, Harry wrote Judge R.M. Lusk in Bonham to inquire about a vacancy for a Latin and Greek instructor in the Bonham High School faculty.
I shall appreciate very much any information or suggestions you may see fit to give me. I am anxious to remain next year at home. I shall await your reply, before I send any letters or "testimonials."
Trusting that you will pardon me, Judge Lusk, for coming to you in such fashion, I am
Yours sincerely,
Harry P. Steger
Meanwhile, Mineola broke the silence over in East Texas by offering Steger $65 per month if he would return, however Harry had his mind made up to spend 1902-03 teaching in Bonham and the letter from Mineola was forwarded to Mr. Duncan and the Bonham ISD School Board. It is most likely that a complimentary letter from Dr. Battle at UT to the local school board soon followed.
Undoubtedly, there were several other letters sent on behalf of Harry, but two recommendations of Steger, in retrospect, would most assuredly overshadow all others.
One was written to the school board by John A. Lomax, a close friend to Harry at the University of Texas and a man destined for his own place in history.
Lomax is probably best known for his work as a pioneering musicologist, but he also taught at Texas A&M and earned a Master of Arts at Harvard. To preserve the purest strain of work songs, spirituals and blues, Lomax often traveled from prison to prison. It was at the Louisiana State Penitentiary at Angola in 1933 that Lomax began recording the work of a 12-string guitar man by the name of Huddie Ledbetter, better known as Lead Belly.
According to the Handbook of Texas, between 1906 and 1908 Lomax found cowhands in the back room of the White Elephant Saloon in Fort Worth who helped him write down several verses of "The Old Chisholm Trail." He found a Gypsy woman living in a truck near Fort Worth that taught him the words to "Git along Little Dogies." He found an old buffalo hunter in Abilene that gave him the lyrics to "Buffalo Skinners."
But just a few years before, Lomax also found time to sit down and write a letter to the school board in Bonham in reference to the gainful employment of one Harry Peyton Steger.
"Mr. Lomax has written me a letter to Mr. Duncan," Harry relays to his father, "but he refuses to let me see it, saying that he fears for the size of my head."
Another letter of historical note came to Bonham from a gentleman that seemed to be Steger's most trusted advisor at the University of Texas.
"Professor Houston has written me a fine letter," Harry writes home to his father, Thomas P. Steger. "Suppose you ask Mr. Duncan to let you see it. Professor Houston is a man that means every word he says, and recommends very few people."
Professor Houston was David Franklin Houston, dean of the faculty at the University of Texas, and so highly regarded an educator that Texas A&M hired him away to serve as president of their institution in 1902 until UT snatched him back in 1905 as president of the University of Texas.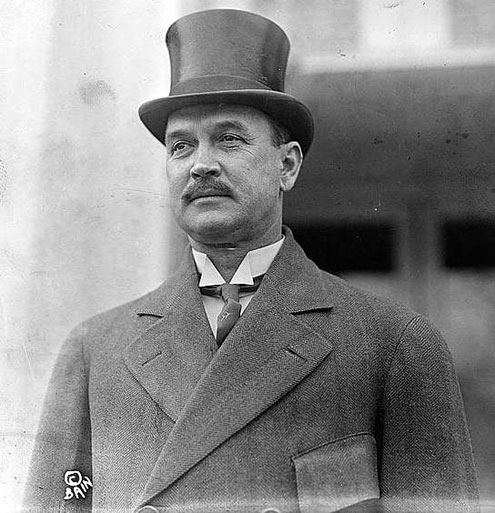 David Franklin Houston
Houston was the man President Woodrow Wilson chose to serve as Secretary of Agriculture from 1913 until 1920 when Houston was named Secretary of the Treasury, a capacity he held until 1921 when Wilson left office. Houston then resigned and entered private business where he became president of Bell Telephone and later Houston was a vice president at AT&T.
Two weighty recommendations, indeed, and the possibility exists that, long since filed away and forgotten, somewhere in Bonham today rests the brittle, yellowing letters John A. Lomax and David Franklin Houston penned to help Harry Peyton Steger find employment as a teacher in Bonham.
previous Steger articles...
http://www.ntxe-news.com/artman/publish/article_110478.shtml
http://www.ntxe-news.com/artman/publish/article_110479.shtml