Local News
Ruiz Foods Team Members donate 51 Easter baskets to local foster children
Mar 21, 2018
Sherman -- The Easter Bunny is getting a little help with delivering Easter Baskets to 51 foster children through the Grayson County Child Welfare Board and the Ruiz Cares Program.
"We 'hopped' on this opportunity to bring a smile to a child during Easter," said Ruiz Cares Ambassador Jeanne Ulcak. "We know their eyes will light up at all the goodies they will find in their basket."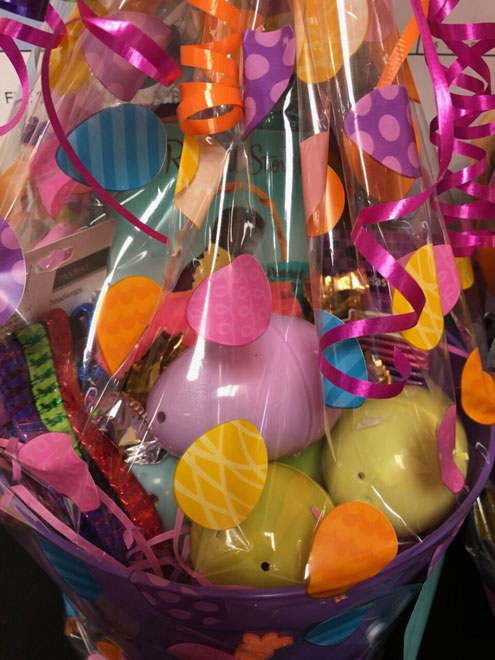 Team Members donated items such as crayons, coloring books, sports balls, books, small cars, arts and crafts supplies, jewelry, makeup, purses, small games, dress up items, mp3 player, jump ropes, cd's of popular music, playing cards and gift cards to name a few. These baskets will go to foster children around age two to 18.
1st row: Albert Carney, Rachel Kern, Christy Pope, and Alicia Cruz. 2nd row: Jessie Smith, Kyle Grimes, and Myndi Boston. 3rd row: Javier Ramirez, Amadou Bocoum, Louis Salazar, Miguel Gonzalez, Benjamin Hardin Van Awi and Ana Canelo.
About Ruiz Cares Program
The Ruiz Cares Program is a company-wide initiative that encourages community service among team members and supports their efforts of giving back. Ruiz Foods values teamwork and making a difference; in this case, Ruiz team members make a difference in their community through service projects. This program will help team members become engaged or continue to participate in community service. Ruiz Cares was launched in 2015 and to date team members have participated in over 600 hours of community service. The program embraces the Ruiz Culture of giving back and working together to make a difference.
About Ruiz Food Products, Inc.
Ruiz Foods Products, Inc. is a privately-owned corporation with corporate offices in Dinuba, Calif. Kim Ruiz Beck, the elder daughter of Co-Founder and Chairman Emeritus, Fred Ruiz, is Chairman. Rachel Cullen is President and CEO.