Front Page
Downtown McKinney's Second Saturday enjoys re-boot with new themed nights
Mar 10, 2018
McKinney -- For a number of years, historic downtown McKinney has celebrated Second Saturday with art gallery exhibit openings, meet-the-artist receptions, and live music. Over the years, the monthly event has undergone some natural evolutions and in the past couple of years, hasn't seen as much participation by merchants.
Now, as of this month, Second Saturday is undergoing a strong and exciting re-boot complete with new logo, website and a list of themes for the months to come.
Relaunching the event
In recent months, downtown merchants began joining forces to renew interest in breathing new life into Second Saturdays. Andrew Jones (owner of Fair & Square Imports) and Jim Latino (owner of Texas Monkey Business) took the reins of the reboot idea. They began visiting other downtown business owners and recently hosted a relaunch reception to increase excitement and participation in this merchant-driven event.
Roughly 30 downtown businesses are already on board, committing to a minimum of a year's participation and support, to bring Second Saturday back in all its glory ... and then some! Participating businesses are found on the event's participant page of the website. (The list of involved merchants is continuing to grow.)
This month's event on March, 10, 2018 will feature a Craft Beer Walk. Several merchants will be sampling different beers from a variety of local breweries in addition to being open for after-hours shopping. Businesses participating in Second Saturday will be open until 8:00 p.m.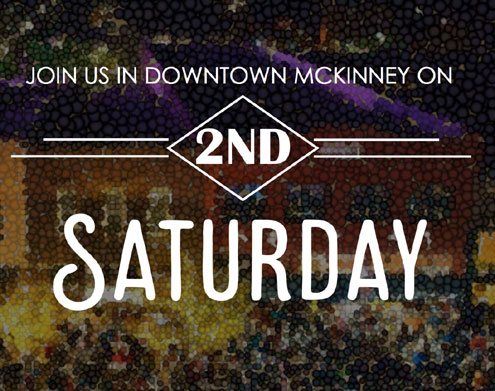 Dining and live music at McKinney's many fantastic downtown restaurants will continue to be a major part of Second Saturdays as it always has been.
What's coming in future months
Other themes/events proposed for the rest of 2018 include the following. (Check back as each month approaches as the list could change slightly.)
April: Arts in Bloom
May: Street Musicians
June: Art Walk
July: Sidewalk Sale
August: Family Game Night
September: Foodie Walk
October: Adult Trick-or-Treat
November: Girls' Night Out
December: Candlelight Shopping & Window Contest
Plan your trip to downtown McKinney for Second Saturday. (For directions and parking information for Downtown McKinney, check the event website. While you're in downtown McKinney, you can take advantage of the free DASH shuttle which circulates around the square and into the parking lots of the downtown area.