Sports
Dodd City falls to Nazareth in state championship
Mar 4, 2018
San Antonio -- For the second year in a row, the top two Class A girls basketball programs in the state -- Nazareth and Dodd City -- faced off in the state championship and it was Nazareth picking up its 22nd state championship with a 56-43 win in the Alamodome in San Antonio.
Dodd City's lone senior Paige Granstaff had to miss last year's final four because of injury, but she quickly made up for lost time with Dodd City's first seven points as the Lady Hornets jumped out to a 7-2 lead.
Dodd City's junior point guard Abby Weeks and Dani Baccus, one of two freshmen that start for the Lady Hornets, both knocked down triples to give Dodd City an 18-11 lead over the perennial state championship Nazareth team at the first buzzer.
As the second period got underway, Journie Hilliard, the other freshman starter for Dodd City, worked inside for two points in the paint as the Lady Hornets stretched their advantage to 20-11.
That all changed when Nazareth went on a 16-2 run to take a 27-22 lead into the locker room at halftime.
Dodd City and Nazareth traded baskets for most of the third quarter as Dodd City went into the fourth quarter trailing, 35-30.
Nazareth would manage to pull away late on free throws to earn a 56-43 win, its fourth state title in the last five years.
For a Dodd City girls basketball program that graduated three starters off last year's state finalist team, yet battled all the way back to the state championship, the curtain comes down on a remarkable 37-2 season.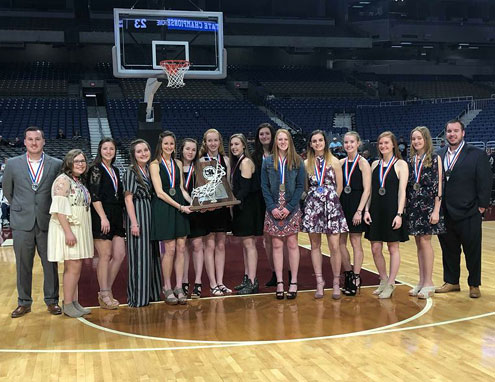 photo by Melissa Brent