Sports
Blue takes 14-0 win in annual Blue and Gold Spring Game
Mar 3, 2018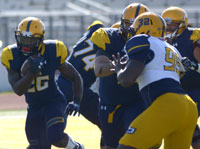 Commerce – The Texas A&M University-Commerce football team gave its first public showing in defense of the 2017 NCAA Division II National Championship with the annual Bule and Gold Spring Game at Ernest Hawkins Field at Memorial Stadium on Saturday morning.
"I thought it was a good, clean game with a lot of good plays being made, especially defensively," said head coach Colby Carthel. "Our defense is a little bit ahead of the offense right now and with a split squad it makes it tough to move the ball."
The defensive prowess was evident in the game, as there were only two scores in the 14-0 win for the Blue team. The teams were drafted by the coaching staff earlier in the week in an effort to give all players a chance to see the field. Carandal Hale scored a 6-yard touchdown run, and Deonta Adams was on the receiving end of a 6-yard touchdown pass.
The game comes after two weeks of spring practices, which came hot on the heels of the National Championship run and the ensuing loss of the winningest senior class in school history.
"It's been a great spring so far and every year we have a lot of turnover. We've graduated a lot of great players every year we've been here. That's what's fun, this thing is self-sustaining. We've got players ready to step up in those roles that played a little bit as a backup last year or who transferred in. We've got some great competition. We're nowhere near ready for the 2018 season but we're off to a great start."
Unlike most programs, A&M-Commerce's spring game does not mark the end of spring practices, but serves as an important measuring stick heading into the final portion of spring practice. Thus, the Lions start their spring season in February, nearly immediately after National Signing Day.
"Getting out here and getting an early start to spring is really important. It's always been important for our program and our success. I think we're going to be in good shape but we do still have some work to do.
"We've got six practices left and we design it that way on purpose. We've got some work to do. Defensively, we've got some young guys who are continuing to step up in some roles and they need to improve technique-wise and with our scheme. Offensively, with so many moving parts up front and at the quarterback wide receiver positions, we've got to continue working on our timing and the mechanics of the offense."
The Blue and Gold game and the progress of the spring season gives Carthel optimism heading into the 2018 season, though the Lions must strive to succeed in the coming weeks.
"We've got the tools we need to be very successful, so we've got to keep working and chopping wood and get this thing improving every day. We've got six chances to get better, then we'll hit the offseason."