School News
SHS Band on the Run 5K to raise funds for the 2018 marching season
Mar 2, 2018
Flood damage, vandals create deficit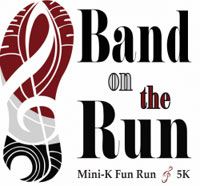 Sherman, Texas -- The Sherman High School Band Boosters will hold the 4th Annual Band on the Run 5k and Mini-K Fun Run on Saturday, March 3. Runners step off to live music by the Sherman High School marching band and return to a fight-song finish.

The 5K supplements the Band Booster's fund-raising work during football and soccer season in Bearcat Stadium. Each year, the Boosters operate the concessions stands serving as the purchasers, food handlers, and owners of the assets of operation there. Proceeds from that work help fund show props, travel, food, scholarships, and school-owned instruments.

However, the 2017 concession season was marred with a vandalism incident and later, significant flood waters in the stand. Repair and replacement of inventory and assets have taken a toll on the expected profits for the year.

"The 5k is a growing fund-raiser for the band," said Ryan Jenkins, SHS director of bands. "And, this year, more than ever, it's important for runners, walkers, and sponsors to show up to help us regain what was lost in the fall. We think we run a great 5K, it's a lot of fun with live music, a color guard, and a great T-shirt for early registrants.

Runners and walkers of all ages and abilities are welcome at the starting line at Piner Middle School at 402 W. Pecan in Sherman. Race day registration and packet pick up begins at 7 a.m., Mini-K Fun Run starts at 8 a.m.; the 5k race start is 8:30 a.m. Those registered in the 5K will receive a USATF certified MYLAPS Bib-Tag Timing, a race shirt (for those registered by February 24) and an opportunity to win a medal in their age group.

Early registration costs through noon on February 24 are: individual registration 5K, $25 online; teams of 10 or more are encouraged to register together online for the reduced price of $20 each; Mini-K Fun Run price is $18 online. Price increases at noon to $30 for individual 5K; $20 for Mini-K. Online registration is preferred at getmeregistered.com; search for the event using Sherman, Texas.

And, unique to the SHS Band on the Run 5K is a come-and-go, carb-loading spaghetti dinner on Friday, March 2 from 6 to 9 p.m. at the Sherman High cafeteria, 2201 E. Lamar. Dinner is included in the race registration fee, additional dinner tickets may be purchased for $7 each; 5 years old and under eat free. The SISD concert bands from sixth through 12th grade will be performing along with the high school jazz band the night of the dinner.

Runners may also register at the Packet Pick Up at Sherman High School on March 2 beginning at 3 p.m. and continuing through the spaghetti dinner. Race day registration costs is $35 for individuals, $25 for Mini-K and $20 for team members. Sherman High School students and faculty or staff may register for $15 on race day.

"For the fourth year, Weaver Construction will be the title sponsor for the race," Jenkins said. "Their ongoing support as the race has grown is something we value and appreciate. We hope to add even more names to our sponsor list this year."

Proceeds from the race will be allocated to the 2018 competition marching show. During marching season, the Sherman High band has up to 240 members on the field including color guard—nearly 10 percent of the student population of the high school. They are under the direction of Ryan Jenkins, Director of Bands, and assistant directors Flint Weed, James Smith and Ana Hinojosa.