Front Page
History of McKinney Krewe of Barkus pooch parade
Feb 9, 2018
McKinney -- Every dog has his day and in McKinney that special day is always the Sunday before Mardi Gras when the annual Krewe of Barkus dog parade is held. The parade, patterned after the New Orleans Mardi Gras parade for dogs, is the brainchild of Louisiana transplant Blynda Christian. In the fifteen years of its existence, Christian has watched her concept grow from two dozen dogs and their owners to a family-friendly event that attracts thousands of people to downtown McKinney.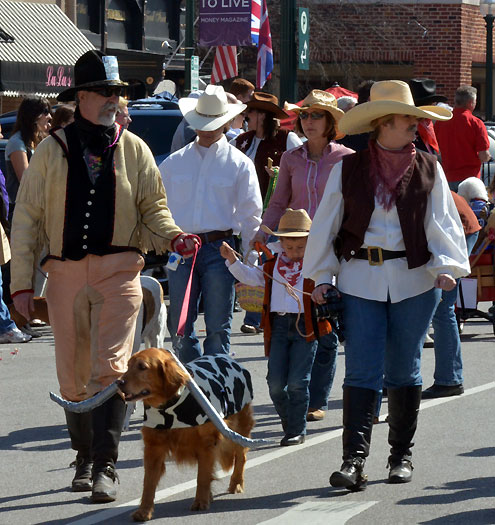 "We always have the Barkus parade the Sunday before Mardi Gras," the founder of the parade explains, "so the date changes but the day does not. Mardi Gras is the last day before Lent and can be traced back to medieval Europe, but the festival in New Orleans goes back to the 1700's. Our McKinney event started in 2003."
"Growing up in Louisiana, Mardi Gras is a big deal and great fun for me," Blynda says. "I started the Barkus parade as a way for kids to learn about the culture in New Orleans, express themselves creatively, and bring families to the heart of McKinney – the Square. It was truly a grass roots effort. I dressed up Lady Godiva, my chocolate lab, in a tiara and beads and sent her photo out with a press release. Every local paper picked it up! We planned the event on a Wednesday and had the parade on Sunday. We had about 25 dogs and their owners show up and a small crowd….but the press was there and Barkus was born. Each year it has just gotten bigger and better - and there are more dogs watching from the sidelines than there are in the parade. The crowd last year was an easy 5000 and we had 200 dogs in the parade - most with entourages. We estimated that there were hundreds of dogs watching from the sidelines."
Event founder Blynda Christian tosses out beads at a previous Barkus parade in historic downtown McKinney.
Pleasant weather has graced the event for most years, but in 2010 & 2014 even frigid temperatures and snow flurries didn't deter the faithful fans of this very special day. These aren't fair-weather friends. These are people who look forward all year to this celebration in honor of man's best friend.
"For the first couple of years, we were just trying to bring the idea of Mardi Gras to McKinney, so we didn't have 'themes' like they do in New Orleans," recalls Blynda. "Our theme was Mardi Gras: the colors of purple, gold, & green, the masks, and the beads. With each year being more successful than the previous, we introduced the idea of an annual theme in 2007 and it's been a wild ride ever since."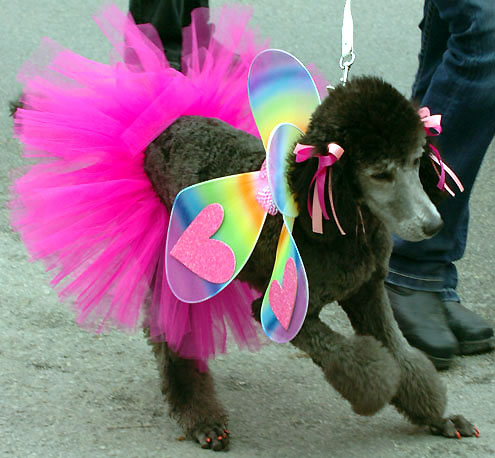 2007's theme was Barkus Goes To Hollywood, which showcased the movies, and a Great Dane dressed as Tom Cruise in Risky Business stole everybody's hearts. 2008 brought The Rock & Roll Pawl of Fame, and dogs came dressed as rock stars. Some even had their own "Security" teams. 2009's theme was "Tailevision – Classic TV Gone To The Dogs". Blynda recalls, "My favorite that year was two Chihuahuas dressed as Lucy & Ethel in a cardboard box TV set, depicting the Chocolate Factory episode. Our contestants are serious about having fun with the costumes!"
In 2010, Barkus fell on Valentine's Day and the theme was Fairy Tales & Love Stories – Barkus Does Romance. Happy Tales To You – Barkus Salutes Texas and the Wild, Wild West was the popular theme for 2011 and Texas pride was apparent everywhere. Patriotism rang in 2012 with the theme "All American Barkus – A Salute to Presidents, Pioneers, & Pawtriots". Then, in 2013, things got a little silly with Barkus Gets Animated – From Comics to Cartoons, A Salute to the Characters that Tickle Our Funnybones.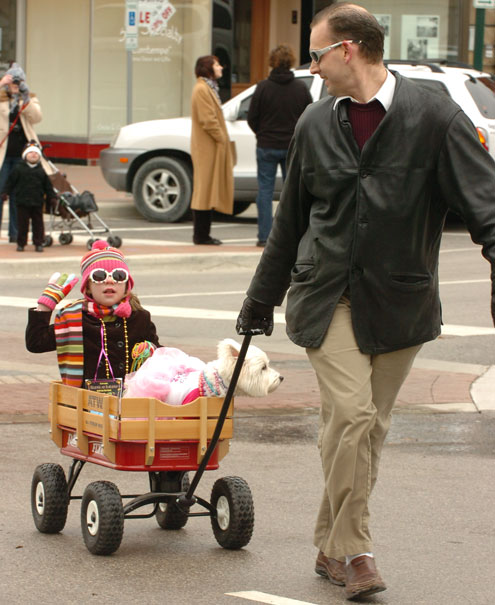 Even a snow storm in 2014 couldn't keep Barkus from Going Back In Time – Decked Out By Decade, which was a tribute to each decade from the 20's to the present. The parade was moved indoors at the eleventh hour and McKinney MPAC was filled to capacity. Last year's theme, "Pooches & Paris – Barkus Salutes All Things French" in 2015 may have been one of the favorites of spectators, partially because of the amount of thought, time, and energy contestants put into their costumes and floats.
"I continue to be blown away by the support for this McKinney tradition and the creativity of all who participate in it each year," Blynda states. The theme for 2016 was Barkus Does Books – A Salute to Favorite Characters in Literature and contestants brought favorite books that were donated to local charities. Last year, 2017, the theme was "Barkus Goes Bad – A Salute to Our Favorite Villains" because every good story has a bad dog. The entries were nothing short of hilarious.
This year for our 16th annual parade, we are traveling. You won't need a passport for this journey but it will be a trip of a lifetime when contestants dress and celebrate their heritage, places they've been to, or places they want to go. We're calling it the "Bark-a-palooza Tour Around the World – Celebrating Countries and Cultures Across the Globe."
Prizes are donated by the downtown merchants and will be awarded for Best Small, Medium, & Large Dog, as well as Best Group, Best Float, and Best of Show. For more information, contact McKinney Main Street at www.mckinneytexas.org or 972-547-2660 or visit www.artinstituteofmckinney.com Krewe of Barkus Parade – McKinney, TX also has a popular Facebook page. You can register online from any of the sites.