Lifestyles
Sherman Community Players present Kindly Leave the Stage beginning Feb. 8
Feb 9, 2018
Sherman -- Featuring Darrah Dunn, Carissa Hodges, Jennifer Becherer, Maxwell Norris, Ben Fuhr, Chessica Moon-Burton, Gena Graham and Hannah Sanza, Kindly Leave the Stage is a quirky comedy which breaks the fourth and fifth wall of the theatre. A play within a play and then some, it plays in real time and the audience witness an actor break from character and stop the play dead in its tracks.
Chaos and hilarity ensue, and the audience watches as the actors/real people—figure out how to end the show with some kind of dignity.
Written by British playwright John Chapman, the play challenges the audience into questioning what's real and what's not.
Feb. 8th $10 Preview or PWYC
Feb 9th, 10th, 15th, 16th, 17th, 22nd, 23rd, 24th performances begin at 730 p.m.
Feb 11th, 18th, 25th Matinee Performances begin at 2:00 p.m.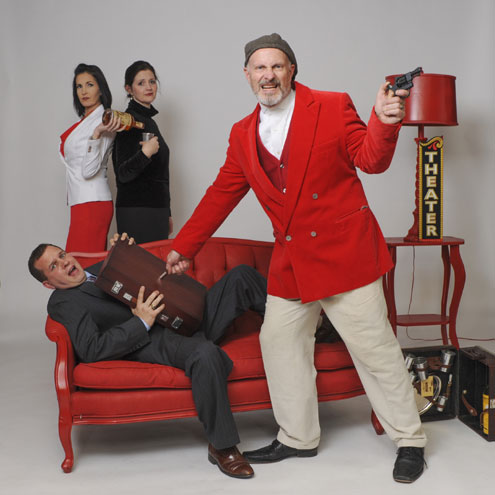 Front: Benjamin Fuhr, Darrah Dunn. Rear: Carissa Hodges, Jennifer Becherer
First United Bank is the Season Sponsor of Sherman Community Players and Kindly Leave the Stage, written by John Chapman and directed by Anthony Nelson, is sponsored by Wells Fargo Advisors LLC.

Tickets cost $16, student $10
Order Tickets online at www.scptheater.org or by Calling or visiting the box office, - 903.892.8818.
Daytime box office is in the Honey McGee Playhouse, 313 W. Mulberry Sherman TX 75090
Open to the general public beginning Feb. 7th – 24th from 10:00 a.m. to 2:00 p.m.
Evening box office is located in the Finley Theater, 500 N. Elm Sherman TX 75090, it opens an hour before curtain.
Free PARKING is located at First Methodist Church, Kidd Key Auditorium, Bank of Texas (north of Washington St.)