Obituaries
Berta Jean Sullivan Jackson
Jan 30, 2018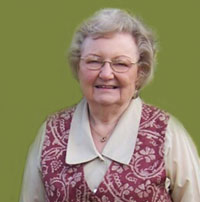 Leonard, Texas -- A graveside service for Berta Jean Sullivan Jackson, 90, of Llano, formerly of Leonard, is scheduled for 10:30 a.m. Friday, February 2, 2018 at the Leonard Cemetery. Charles Wrenn will officiate. Family viewing and visitation will be from 9:30 a.m. until 10:15 a.m. Friday, February 2, 2018 at the Turrentine-Jackson-Morrow Funeral Chapel in Leonard.

Berta was born June 13, 1927 in Leonard. Her parents were James Pickney and Bertha Irene Prather Sullivan. She was a graduate of Leonard I.S.D. She married John Thomas (JT) Jackson May 7, 1944 in Leonard and they were blessed with more than 73 years together as husband and wife. She was a homemaker and a member of the Church of Christ. Berta and JT also owned and operated the Western Auto Store in Leonard for 14 or more years before their retirement. Berta and JT were avid Square and Round Dancers and spent every summer for 10 years after their retirement working at the English Mountain Square Dancing Retreat in Tennessee before they moved to their daughter's ranch in Llano.

Berta is survived by her husband: John Thomas (JT) Jackson of Llano; her nephew: James Lloyd Brittain of Conroe; her son and daughter-in-law: Edward Leon and Susan Jackson of East Camden, Arkansas; her daughter and son-in-law: Wilma Jean Jackson Holt and husband, Bill, of Llano; her sister-in-law: Elva Jo Savage of McKinney; her brother-in-law and his wife: Darwin Neal and Pat Jackson of Blythewood, South Carolina; her 4 grandchildren, 8 great-grandchildren and 1 great-great grandchild.

In addition to her parents, James Pickney and Bertha Irene Sullivan, Berta was preceded in death by a sister, Mary Ruth Sullivan Brittain, and a nephew, Thomas Leonard Brittain.

Turrentine-Jackson-Morrow Funeral Home of Leonard is in charge of arrangements. An online registry may be signed at www.tjmfuneral.com.