Obituaries
Tim Kraft
Jan 29, 2018
Ector, Texas -- A memorial service for Tim Kraft, 50, of Ector, Texas will be held 2:00 p.m. Saturday, February 3, 2018 at Ector Baptist Church in Ector, Texas, under the direction of Wise Funeral Home. Officiating will be Pastor Morris Cook. Timothy passed away on January 28, 2018. He was born October 26, 1967 in Garland, Texas.
Tim served in the US Army 1986-1989. He married Beverly Christine McDowell on October 8, 1991 in Ector, TX. Loved fishing, hunting and target shooting with his sons, listening to music, playing guitar, cooking, drinking coffee, and playing computer games. He especially enjoyed spending time with friends. He was avid reader, including the Bible and any history literature. He counseled and ministered with local kids, drove the school bus in Ector for many years, and all of the kids on his bus loved him. He loved movies, such as Lord of the Rings, Star Wars, Star Trek, horror movies and the Christmas Story. He was very proud of his collection of beer steins from Germany.
Timothy was preceded in death by his grandparents, James and Emma Zuver; uncles, Stewart Zuver, James Nathan Zuver and foster uncle, Melvin Malone.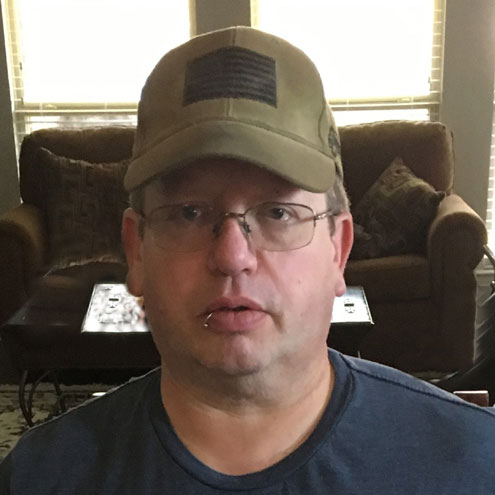 Surviving are his wife of 26 years, Beverly McDowell Kraft; mother, Margaret Zuver Edwards and step-father, Carl Edwards; sons, Dillon James Kraft and wife Rachel of Stuart, VA, Avery Kraft of Ector, TX; brother, Jason Cheshier and wife Carrie of McKinney, TX; .Other surviving family include, nephews, Travis McDowell and wife Lindsey, Griffin Cheshier, Dalton Dill; great-nephew, Liam Ragle; nieces, Lyla Cheshier, Randi Ragle and husband Daniel; great-niece, Jasmine Ragle; brother-in-law, Delbert McDowell and wife Lana; mother-in-law and father-in-law, Junior and Patsy McDowell
The family will receive friends at 1:00 p.m. until service time on Saturday, February 3, 2018 at Ector Baptist Church.
An online guestbook is available at www.wisefuneralhome.com.