School News
Ian Bremmer to speak at Jan. 30 SMU Tate Lecture
Jan 30, 2018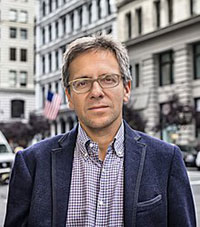 DALLAS (SMU) – Founder and president of the Eurasia Group Ian Bremmer will be the featured speaker at The Tolleson Family Lecture of the Willis M. Tate Distinguished Lecture Series at SMU Tuesday, Jan. 30.

Bremmer will answer questions at the Turner Construction/Wells Fargo Tate Student Forum at 4:30 p.m. Tuesday in Hughes-Trigg Student Center Ballroom, 3140 Dyer St. The student forum is a lively question-and-answer session with Tate speakers for area high school students, SMU students, faculty and staff.

The evening lecture will begin at 8:00 p.m. Tuesday at SMU's McFarlin Auditorium, 6405 Boaz Lane.

Ian Bremmer is the president and founder of Eurasia Group, the leading global political risk research and consulting firm. He is a prolific thought leader and author, regularly expressing his views on political issues in public speeches, television appearances and top publications.

Eurasia Group has offices in New York, Washington and London, as well as a network of experts and resources in 90 countries. The company provides analysis and expertise on how political developments and national security dynamics move markets and shape investments across the globe. As the firm's president and most active public voice, Bremmer advises leading executives, money managers, diplomats and heads of state.

Bremmer is credited with bringing the craft of political risk to financial markets. He created Wall Street's first global political risk index (GPRI) and established political risk as an academic discipline. His definition of emerging markets, "those countries where politics matter at least as much as economics for market outcomes," has become an industry standard. "G-Zero," his term for a global power vacuum, in which a country isn't willing and/or able to set an international agenda, is widely accepted by policymakers and thought leaders.

He has published nine books, including the national bestsellers Every Nation for Itself: Winners and Losers in a G-Zero World and The End of the Free Market: Who Wins the War Between States and Corporations?