School News
Bonham ISD announces new administrators
Jan 27, 2018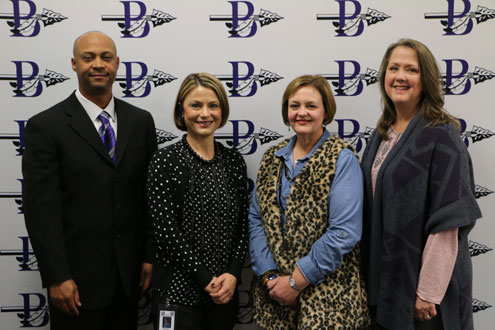 (L-R) Harold Colson (Athletic Director), Rory Lacy (Director of Early Childhood Education (Bailey Inglish Principal), Suzanne Kennedy ( Early Childhood Program Director (Bailey Inglish Assistant Principal), Cristi Uland (Assistant Principal for Finley-Oates)
Harold Colson
Bonham ISD is proud to welcome Athletic Director, Harold Colson, to the Warrior Family. Coach Colson comes to Bonham from Bridgeport ISD where he has been the Assistant Principal, UIL Coordinator, and Assistant Administrator of Athletic Events for Bridgeport High School since 2014. Coach Colson has served in both, public school education and higher education for more than 20 years. The qualifications of Coach Colson includes a Master of Science Degree in Kinesiology with a minor in Education Administration from Texas A&M University-Kingsville, current Doctoral candidate in Education from Northcentral University, Eighteen years of coaching and teaching experience in the 5-A and 6-A levels, being named Denton County Coach of the Year in 2012. Also, Coach Colson is a member of the Texas High School Athletic Directors Association and NIAAA Board Certified Athletic Administrator.
With community interactions such as Facilities Coordinator, assisting in the development and facilitation of in-service training for teachers and coaches, and establishing strategic partnerships between businesses and educational communities, Coach Colson is a great fit for the Bonham Community. Colson is married and has two children, his wife Monica, daughter Hayden, and son Xavier.
"It is with great pleasure that I begin to serve the students and community of Bonham, Texas," Mr. Colson stated. "I would like to thank the school board and Dr. Beaty for their support. Bonham ISD has a long history of both academic and athletic excellence and it is my hope to continue that success. Go Warriors!"
Rory Lacy
Bonham ISD is proud to announce the new Director of Early Childhood Education (Bailey Inglish Principal): Rory Lacy is a graduate of Bonham High School. Ms. Lacy is a college graduate of Oklahoma State with a Bachelor of Science and has gone on to receive her Masters in Educational Leadership and Principal's Certification from Lamar University.
Ms. Lacy has also worked for Bonham ISD in the elementary and intermediate classroom as a teacher and as Bonham ISDs Pre-K-12 Technology Integrationist, for a total of 7 years.
With 3 teenage boys who are all a part of the BISD band and Boy Scouts of America, Ms. Lacy is very family oriented. She is well involved in the community through church and Boy Scouts serving as a scout leader and committee leader.
In her free time, Ms. Lacy enjoys camping, traveling, reading, and spending time with friends and family.
"My hope is to make a positive difference in the lives of our students, families, and staff through relationship building, by sharing a passion for learning, supporting our endeavors, and celebrating our successes," remarked Mrs. Lacy.
Cristi Uland
Bonham ISD is proud to announce the new Assistant Principal for Finley-Oates: Cristi Uland received her Bachelor's Degree in Sociology with a minor in Non-Profit Organization from the University of North Texas, Masters in Education from Concordia University, and has received her Principal Certification from Lamar University. She has taught 4th grade for Duncanville ISD and Sherman ISD and also received the ITeachTexas Teacher of the Year Award. Coming to Bonham ISD in 2016, Mrs. Uland has been the Instructional Coach at I.W. Evans where she was involved with teachers and students in all aspects of learning. Mrs. Uland is the wife of Coach A.J. Uland, her high school sweetheart and they have been married 33 years. She is the proud parent of four children. Grant graduated from Texas A&M University as a Software Engineer. Josh graduated from Austin College and is a Teacher/Coach at L.H. Rather Junior High School. Amanda her only daughter is a Senior at Sam Houston State, she is married to Vic and they just gave birth to their first child Solomon. Jonathan has started his freshman year at Tarleton State where he is a member of the football team.
"I have a passion for impacting kids in a positive way and believe that all students can succeed if given enough love, support and understanding," said Mrs. Uland. "I am proud to work alongside such amazing teachers and students who are focused on academic and personal success. I look forward to being a part of a campus that provides engaging and meaningful experiences for our students. My favorite quote is "Students don't care how much you know, until they know how much you care. KIDS don't remember what you try to teach them, they remember what you are."
Suzanne Kennedy
Bonham ISD is proud to announce the new Early Childhood Program Director (Bailey Inglish Assistant Principal): Suzanne Kennedy is a native of Sherman, TX, but has lived in Bonham for more than 20 years. Mrs. Kennedy received her Bachelor of Science in Elementary Education and Early Childhood from East Texas State University and has received her Master of Education Administration from Texas A&M University at Commerce. Certifications that Mrs. Kennedy holds include Elementary Self Contained-Grades 1-8, Elementary English-Grades 1-8, Early Childhood Education-Grades Pre-K-KG, ESL Supplemental-Grades Pre-K-12, and Principal-Grades EC-12. With more than 25 years of experience working in education, Kennedy worked for Savoy ISD for 2 years as a Kindergarten and 2nd Grade teacher before her 23 years of service for Bonham ISD working in Head Start, Kindergarten, Assistant Principal, 1st grade teacher, and Instructional Interventionist.
Her hobbies include working in her yard, going out to eat and to the movies and spending time with her family and friends. She absolutely loves to spoil her nephews and niece, Jace, Cale and Kendyl. In 2005 she married her husband Jeff Kennedy who owned Smith Moore Williams Co and also worked for Bonham ISD. She is a member of the First United Methodist Church-Bonham and enjoys participating in volunteer activities in our community.
"I am excited to begin my new endeavor and to build relationships with the students, parents and staff at Bailey Inglish. Together I believe we can create a positive and loving learning environment for all," stated Mrs. Kennedy. "My goal as an educator is to help students set goals and to motivate them to achieve their greatest successes in life. I look forward to seeing all of the amazing accomplishments of our students at Bailey Inglish."
"My first teaching assignment in Bonham was in the Head Start program," continues Mrs. Kennedy. "I am truly honored to be returning to the place where my first experiences with early childhood education were built and also where my ties to a loving community began."