Front Page
Departmental overspending causes heated exchanges in Fannin County Commissioners Court
Feb 15, 2018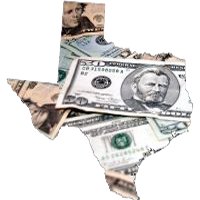 Fannin County, Texas -- Fannin County taxpayers are well aware they are required to live within their budget. Fortunately, most local elected officials feel the same way. But, apparently that isn't always the case. The regular meeting of Fannin County Commissioners Court was about money -- taxpayers' money -- and that will likely be the underlying theme until the primary election in March.

The central fact at a fiery commissioners court meeting February 12 wasn't just that 336th District Judge Lauri Blake was almost a quarter-million dollars over budget; it was the failure of Fannin County Auditor Don Grammar, who was hired by Judge Blake, to notify commissioners as soon as he became aware of the fact that one department had managed to spend approximately $330,000 more of taxpayers' money last year than the previous year.

This tension created by one department busting its annual budget by $246,218.36 may not be the last time taxpayers have to dig a little deeper into their pocket, either. This error may affect the county's credit rating.

Remember, the county has only borrowed half of its share of the cost of restoring the 1888 Fannin County Courthouse. When the county goes out for the other $6,250,000, it may be at a higher interest rate because the county's outside auditor -- Lewis Crain, of Rutledge Crain & Co., PC -- could now file an Exception Report due to this budget overage, instead of the clear opinion Fannin County has received in the past.

Judge Blake implied malicious intent.

"I suggest to you district court has been underfunded intentionally," Blake told Fannin County Commissioners Court. "The vice has been constricting and constricting the budget."

A look back at past budgets would indicate otherwise. The district court has actually been given a larger budget every year to meet the demands of a growing caseload. In fiscal year 2016, the district court was allotted $696,177.82 and actually spent $651,427.62, resulting in a surplus of $44,750.20.

In FY 2017, the district court was budgeted $735,505.58 -- an increase of - $39,327.76 in one year -- yet the department ended up spending $981,723.94.

"This county cannot absorb a million dollars for district court," Fannin County Judge Spanky Carter stated. "We're talking about spending $330,000 more than last year."

"Anytime we expand the budget, we have to come before commissioners court to have that approved," Judge Carter explained. "Whether we go over [budget] $1 or $10,000, it must be brought to the attention of the court. If we don't do that, what's the point of having a budget?"

"That's the auditor's job to keep us out of trouble," Commissioner Stan Barker pointed out.

"I feel the same way," echoed Commissioner Jerry Magness. "We are all held accountable."

"In the seven years I have been here, no one has gone over budget," Judge Carter told the tense courtroom.

When pressed as to why, as county auditor, he didn't advise commissioners court about this glaring departmental overspending, Mr. Grammar replied, "I'm not prepared to deal with this," although he did have an angry outburst later.

In the end, the rule of law and cooler heads prevailed.

"Mr. Grammar, when someone goes over budget, will you place it on the agenda so we can address it?" Judge Carter asked Grammar.

"Absolutely," the county auditor replied.