Front Page
Get ready for 'Romance in Bonham' Feb. 10
Feb 10, 2018
Bonham -- The Bonham Public Library and Whitewright Public Library are pleased to once again sponsor Romance in Bonham, a celebration just in time for Valentine's Day.
This year we welcome eight romance authors whose works are as varied as their careers, encompassing mystery, royalty, cowboys, the paranormal and of course -- romance!
Join us as we welcome Vicki Batman, Carolyn Brown, Patricia Burroughs, Lauren Canan, Janis Susan May, Carolyn Rae, Kim Redford and Rebecca Stevenson. There's something for everyone as these authors discuss not only their work but various aspects of the writer's life.
Romance in Bonham is slated for 11:00 a.m. Saturday, February 10 at Bonham Public Library, 305 E. 5th Street, and is a free program.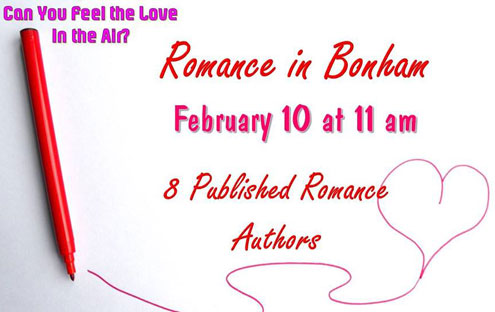 Additional information may be found at either library's Facebook page, website (BonhamLibrary.net or Whitewright.lib.tx.us) or by calling 903-583-3128 or 903-364.2955.