Lifestyles
Joe Crookston to perform at Harmony House Concerts Feb. 11
Feb 11, 2018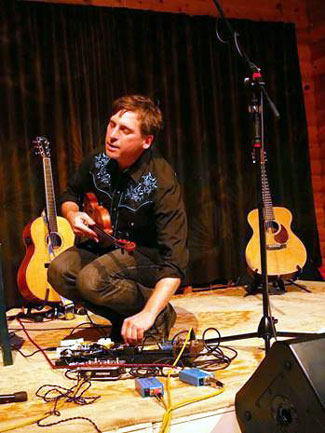 Fannin County, Texas -- On Sunday, February 11, from 4:00-6:00 p.m., the multi-talented Joe Crookston will give a stunning performance here at Harmony House Concerts in a reclaimed vintage home at Wildscape Acres. Joe is a much-sought-after singer-songwriter, who plays a variety of instruments — including slide guitar, fiddle, banjo, acoustic guitar, and more.

We are so excited that we were able to book him during this TX tour. What a delightful, musical bonanza for all you North Texans! Joe made the "TOP 10 of the 2014" on the Folk DJ list, along with Pete Seeger, Bob Dylan, John McCutcheon, John Gorka, and the Stray Birds.

Read more about Crookston in the bio at the end of this press release. Then visit his website, www.joecrookston.com, to watch his videos and the trailer from the movie, Brooklyn in New York, inspired by one of Joe's songs. Listen to songs and see his paintings. If not already a fan, you will be soon.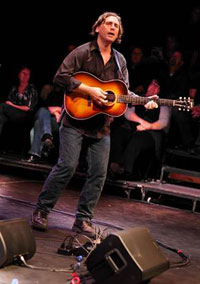 Now, go right to your phone and call 903-583-2661 for reservations to this gig with us. Leave your name, number of seats desired, and contact information (preferably, an e-mail address). Requested donations are $15 per person (a special reservation fee since Joe plays/teaches at venues in the USA, Canada, and Ireland for much more!). To prepay, please make checks to Joe Crookston and mail to Faye Wedell; P.O. Box 812; Bonham, TX 75418, to be received by Thursday, February 9th. Refunds will be made to those needing to cancel by that same date. Reservations can also be paid at the door by cash or checks made payable to Joe Crookston. However, if you make a reservation, please be respectful of the performing artist and the hosts by showing up or cancelling in a timely manner. There may be a waiting list for this show.

This is Joe's first appearance at Harmony House, and he'll be playing two larger venues in Texas on Friday and Saturday night during his Texas tour. (He lives in Ithaca, NY, so February is a great time to head south. Hopefully, our unpredictable Texas weather will be good.)

Joe will play two 45-minute sets with a 30-minute intermission for guests to mingle, graze at the snack tables, refill their coffee or, most importantly, purchase some of Joe's CDs, artworks, or other "merch." We (Faye & Scott, the hosts of Harmony House Concerts) will provide bottomless cups of coffee, tea, and other tea punches, and a variety of cheeses and gluten free crackers for guests. There will be no Potluck Dinner after the show, but guests are requested to bring a finger food munchie to share with others on the tables provided throughout the house.

Joe Crookston's bio:

Songwriter, guitarist, painter, fiddler, slide player, eco-village member and believer in all things possible. Named 2016 Folk Alliance International Artist-in-Residence and signed to Tamulevich Artist Management along with John Gorka and Peter Yarrow. His songs are being made into films. Watch this trailer for Brooklyn in July . Another song, "Blue Tatoo," became the inspiration for a documentary film by the same name, which tells the tale of a unique & special relationship Joe formed with a Holocaust survivor — and how her story precipitated his song creation which, in turn, launched the documentary film. It recently premiered in Buffalo, New York.

He Believes in Stories — He'll surprise you and awaken the cynics. He's plumbing for lyrical gold like a social archeologist. His songs are universal, his rhythm infectious and in concert, he is funny as hell one moment and transcendent the next.

There is a Long Note and Joe is Reaching for It — Come to a show. Mystical, historical, and humorous roads. Visual, artful and human. Brooklyn in July, Oklahoma towns, rattlesnake tails, turbary thieves, Galway heather, meter maids and drunk roosters. At the end of the night, you'll leave inspired. ["The Long Note" is a phrase in Irish culture. It is that place of resonance and transcendence where the music, the voices, the instruments, and the community ALL come together and unite.]

Whether he's picking his 48 Gibson, weaving through lap slide songs or looping his fiddle, he will draw you in. It happens every time. Watch a YouTube video. It's good, but it's not the same. You gotta come to a show. With unwavering courage to be himself, he is literate, poignant and funny as hell.