Obituaries
Ruby Florine Odom
Jan 2, 2018
Windom, Texas -- Funeral services for Ruby Slagle (Flo) Odom, 93, of Windom, Texas will be held 3:00 p.m. Wednesday, January 3, 2018 at Windom Baptist Church, 203 1st Street, Windom, Texas, under the direction of Wise Funeral Home. Officiating will be Rev. Judd Strawbridge. Interment will follow at Forest Grove in Telephone, Texas. Flo passed away on January 1, 2018. She was born August 6, 1924 in Monkstown Community, Texas to Wesley Goss Slagle and Pearl Horn Slagle.
Flo worked in the Vancouver, Washington Shipyard during World War II as a ship welder at the age of 19. She attended Cosmetology School in Houston. She received her Office Secretary Certificate from Paris Junior College. She retired from Carroll Electric as a Bookkeeper in 1991. Flo enjoyed genealogy, and was a member of The Daughters of the Revolution, the United Daughters of the Confederacy, Windom Baptist Church and received her 50-year Eastern Star pin. She was a loving mother, grandmother and great-grandmother.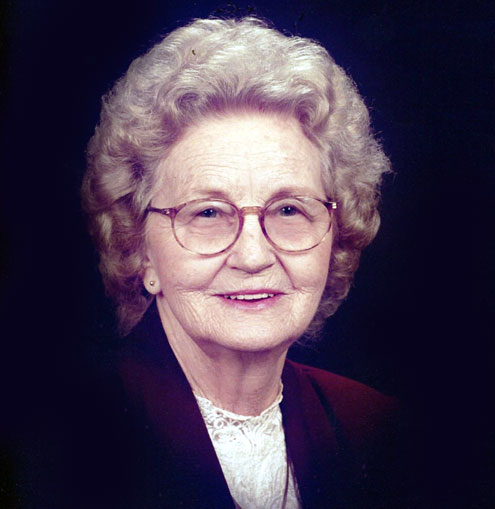 Flo was preceded in death by her parents, Wesley Goss Slagle & Pearl Horn Slagle, and former husband, B. Otis Odom and daughter-in-law, Marilyn Odom.
Surviving are her daughter, Paula Gilbreath and husband Doyle of Windom, TX; son, Ronnie Odom and fiancÚ Karen Cain Rheudasil of Windom; grandchildren, Scott and Tammie Davis of Windom, Jeremy and Joni Odom of Honey Grove, Josh and Ashley Odom of Honey Grove, Jessica and Kyle Braley of Honey Grove and LeeAnn and Justin Johnson of Forney, and Regina, Alli and Abbi Zornes South Point, OH; great-grandchildren, Ashley and Cody Davis, Josh and Jill Russell, Blaire and Gaitz Odom, Brock, Bryson and Brylee Braley and Brady Johnson; great-great grandchildren, Ava and Jaxon Russell.
The family will receive friends at 2:00 p.m. (1 hour prior to the service) on Wednesday, January 3, 2018 at Windom Baptist Church. In lieu of flowers donations may be made to the Windom Cemetery Association, P.O. Box 991, Windom, TX 75492.
An online guestbook is available at www.wisefuneralhome.com.