Local News
April Hatfield, CPA, promoted to partner at McClanahan and Holmes
Dec 29, 2017
The accounting firm of McClanahan and Holmes, LLP, is pleased to announce the promotion of April Hatfield, CPA, as a partner to the firm effective January 1, 2018. April is a certified public accountant licensed in Texas who completed her undergraduate degree in 2002 with a Bachelors of Business Administration degree in accounting from Texas A&M University in College Station. She also has her MBA from Texas A&M University in Commerce. April joined the firm in 2014.
April works in the firmís Bonham office and has primary responsibility for a significant portion of the firmís auditing practice. Aprilís auditing experience includes manufacturing companies, financial institutions, local governments, and non-profit entities.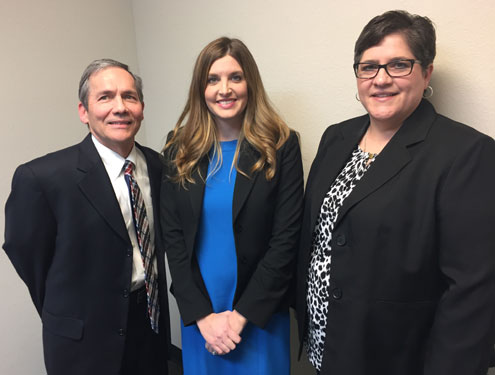 (L-R) Steve Mohundro, April Hatfield and Teffany Kavanaugh, McClanahan and Holmes, LLP partners
April is a member of the American Institute of Certified Public Accountants and the Texas Society of Certified Public Accountants. April and her husband Jedidiah live near Ravenna with their son, Kane and daughter Aisley. April is a member of the Rotary Club of Bonham and she and her husband are members of the First Baptist Church of Bonham.
McClanahan and Holmes, LLP, Certified Public Accountants, has served Northeast Texas and Southeast Oklahoma since the firm was formed in 1952. With Aprilís addition, the firm will have 7 partners with offices in Bonham, Paris, and Denison, Texas.
Steve Mohundro, the partner in charge of the firmís Bonham office, along with the firmís other partners, congratulate April on this career milestone.