Obituaries
Betty Louise Stanley Brown
Dec 26, 2017
Leonard, Texas -- A memorial service for Betty Louise Stanley Brown, 80, of Leonard is scheduled for 1:00 p.m. Saturday, December 30, 2017 at the Leonard Church of Christ.
Betty was born January 28, 1937 in Leonard. Her parents were John Emmett and Ethyl Yowell Stanley. She married Forrest Wade Brown March 6, 1954 in Leonard. They were blessed to be married to each other for 63 years. She was a member of the Leonard Church of Christ and worked at the Leonard Nursing Home for more than 30 years. Her family considers her to be "the sweetest little momma there ever was". She was a very hard worker, she loved gardening and she loved many people and was loved by many people. She passed away Monday December 25, 2017 at the Wilson N. Jones Hospital at Sherman.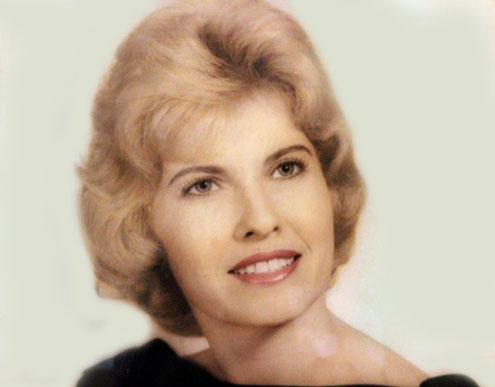 Betty Brown is survived by her husband: Forrest Wade Brown of Leonard; her son: Andy Wade Brown of Leonard; her daughter and son-in-law: Connie Brown Smith and husband Boyd of Sherman; her daughter: Jannie Brown McGuire of Sherman; her daughter and son-in-law: Donna Brown McCoy and husband Mike of Leonard; her sister: Nancy Stanley Page of Leonard; her sister and brother-in-law: Joann and J.C. Armstrong of Leonard; her brothers and sisters-in-law: Derrell and Birdie Stanley of Leonard and Johnny and Merle Stanley of Irving; her grandchildren: Sandra Lynn McGuire of Sherman, Raymond Neal Smith and wife Katie of Sherman, Harley Ray McGuire of Sherman and Leslie Skye McCoy of Leonard; her great grandchildren, Eric and Madison McGuire of Seguin.
In addition to her parents, Emmett and Ethyl Stanley, she was preceded in death by a sister, Jean Stanley Gregory, and two brothers, Jack Stanley and James Stanley.
Turrentine-Jackson-Morrow Funeral Home of Leonard is in charge of arrangements. An online registry may be signed at www.tjmfuneral.com.