Obituaries
Steven Mark McCasland
Dec 24, 2017
Van Alstyne, Texas -- Steven "Mark" McCasland, beloved son, brother, husband, father, grandfather, and uncle, passed away Thursday, December 22, 2017, at 64 years old. Born January 27, 1953, to John and Icie McCasland, Mark was raised in Dallas and graduated from Lake Highlands High School. At 6 feet, 8 inches tall, he towered over all of us, so you could both literally and figuratively say that everyone looked up to him. After graduation from the University of North Texas with a bachelorís degree in Computer Science/Systems Analysis, his lifeís work was done mainly at Texas Instruments, DSC Communications, Alcatel, and Flow Serve.
His marriage to Nanci Klas in 1977 was blessed with the births of two daughters, Shelly McCasland Jones and Jordan McCasland. His family moved to Van Alstyne, enjoying life in the country on 13 acres. His favorite thing to do was watch football, especially his Dallas Cowboys. He loved basketball, cars, boating, fishing, and water skiing. He also enjoyed caring for his horses and dogs. His happiest times were spent with his family, especially with his granddaughter Addison Jones.
Mark, a Baptist, loved Christmastime and is now celebrating with God and those who went to Glory before him. What joyous rejoicing that must be! He is predeceased by John and Icie, survived by his wife Nanci, daughters Shelly and Jordan, and granddaughter Addison, as well as his sister Kay Threadgill, husband John, and their daughters Whitney, Erin, and Abby of Dallas and sister-in-law Cindy Zachery, husband David, and many nieces and nephews in the Chicago area.
He was a giant of a man with an even bigger heart!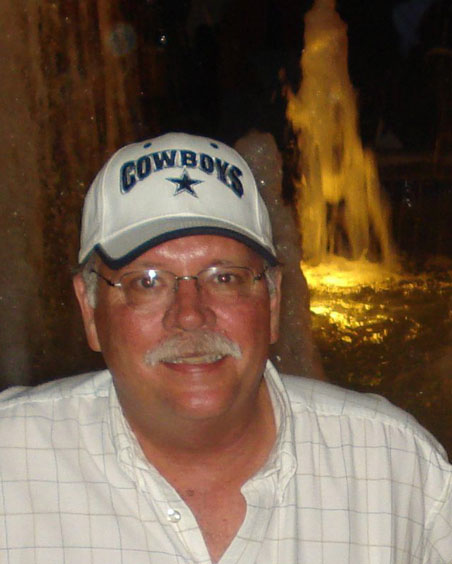 Funeral services for Mark McCasland will be held at 3:00 p.m., Wednesday, December 27, 2017 at Scoggins Funeral Home. The family visitation will begin at 2:00 p.m. Burial will be in Pecan Grove Cemetery, McKinney, at a later date. God bless us every one.
Services are under the direction of Scoggins Funeral Home & Crematory, 637 W. Van Alstyne Parkway, Van Alstyne, Texas. 903-482-5225. You may sign the online guest book at www.scogginsfuneralhome.com