Local News
Books & Bites to meet Friday, December 29 at the Bonham Public Library
Dec 26, 2017
Bonham -- The Alice Network by Kate Quinn will be the book for discussion at Books & Bites book review at the Bonham Public Library. Books & Bites is a monthly book review and discussion focusing on a current or best selling book from the historical fiction genre. We meet the last Friday of the month at 1:00 in the meeting room.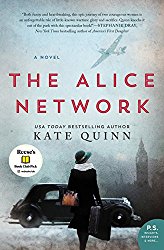 This month's book, The Alice Network jumps deftly and briskly between two tumultuous periods of European history: 1947, in the wake of the second world war; and 1915, in the heat of the first. After World War II, Charlie St. Clair—a young American woman being shuffled off to Europe by her family due to a surprise pregnancy—is searching for her lost French cousin, and her quest leads her to the London doorstep of a prickly, drunken woman named Eve Gardiner.

In 1915, a much younger Eve is working as a file girl for the war effort when her multilingual skills and ability to go unnoticed (helped by her stammer) earn her the opportunity to work as a spy in German-occupied France. Eve wants to be on the front lines, but she may be unprepared for how far she'll have to go. Her story is based on the real life women's spy network and resistance in German occupied Lille, France during World War I. Join us for a bite of history and a sweet bite. For more information, contact the Bonham Public Library.