School News
Elf fundraiser at L.H. Rather Junior High brings in $3500
Dec 21, 2017
Bonham -- A junior high coach in Bonham spent the day dressed as an elf as part of a fundraiser called Operation Christmas which was a project for the L.H. Rather Jr. High Student Council. The student council's ambitious goal was to raise $3000 to purchase Christmas gifts for students in their school who are in need.
Teachers and staff members volunteered to have their names placed on a collection jar with the understanding that whichever person received the most donations would come to school dressed an elf on Friday, December 15. When the votes were counted, Josh Uland donned the elf suit for a day.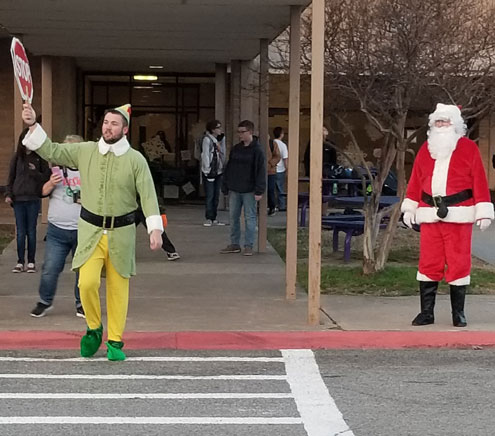 Josh Uland volunteers for morning crosswalk duty at L.H. Rather Junior High in Bonham.
The fundraiser exceeded the original goal and raised over $3500, allowing the student council to provide Christmas gifts to 25 students this week.
"We are thrilled that he was willing to go above and beyond to help make Christmas brighter for our awesome kiddos at L.H. Rather," said Traci Daniel, junior high principal.