Local News
Denison Industries 2017 Statewide Small Employer of the Year Finalist
Dec 25, 2017
Denison -- Denison Industries of Denison was selected as a finalist for the 2017 Texas Workforce Solutions Small Employer of the Year Award. Denison Industries is a world-class manufacturer of aluminum castings used in aerospace, automotive, commercial, and military applications. The company attributes its success to investing in its employees and its community with opportunities for growth and educational advancement.
Denison Industries provides employees with benefits such as wellness programs, on-site health care, child care subsidies, tuition reimbursement assistance, and specialized training programs.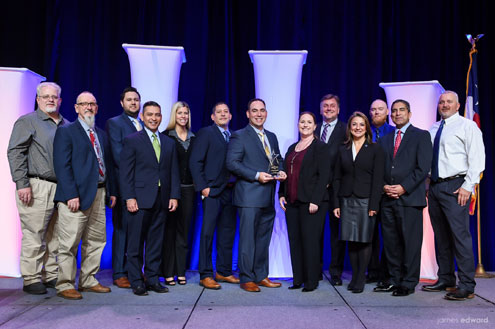 As a founding member of the Texoma Manufacturing Consortium, Denison Industries provides mentors for high school students and sponsors Manufacturing Day. For Manufacturing Day, Denison Industries provides tours for students, including interaction with staff and a free lunch. Students participate in a unique demonstration called "Foundry in a Box," which exposes youth to the manufacturing industry through hands-on learning.
With a Foundry in a Box demonstration, students melt metals, pour molds, and keep the resulting product as a souvenir. In addition, Denison Industries has contributed to the success of graduating more than forty students from the Industrial Maintenance program and who were subsequently hired by local manufacturers
Partnering with Grayson College, Denison Industries assisted in streamlining programs for high school students to begin taking manufacturing-related courses as early as the 10th grade. In addition to assisting with tuition costs, Denison Industries provides students an opportunity to participate in the Sparks, Nuts, and Bolts summer manufacturing camp at Grayson College.
Denison Industries' leadership extends through the community by participation with numerous community organizations, such as the United Way of Grayson County, Women Rock, Inc., Toys for Tots, and the Grayson County Crisis Center.
Workforce Solutions Texoma was proud to nominate Denison Industries for this award. We know we can count on Denison Industries for all of their past, present, and future contributions to building our workforce of tomorrow!