School News
Bonham Public Library hosts bookmark design contest for Teen Read Week
Dec 5, 2017
Bonham -- In October, Bonham Public Library hosted a bookmark design contest for Teen Read Week. The theme of this years Teen Read Week was Unleash Your Story. We sent out the bookmark design contest to the area schools and we received over 100 entries. Most of the entries came from L.H. Rather Junior High School.
First place prize was to have their bookmark published and distributed here and at their school and a notebook with their design published on it. Second place prize was a watch and third place prize was a gift card for Dairy Queen.
We presented the prizes to the winners on December 4 and surprised them.
Congratulations to our 2017 Bookmark Design Contest Winners from L.H. Rather Junior High.
Great job!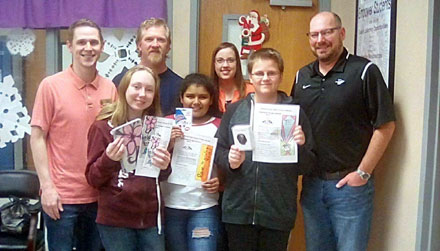 First place: Kadince Shires
Second place: Parker Haggard
Third place: Brenda Lemus
Thank you to all the students who entered.
Kadince Shires' bookmark is available here at the Library or the school!
Please pick up your bookmark today.