Sports
Seeing the outdoors in a new light
Dec 5, 2017
Since our visit last week, it has quiet around the Clayton camp, abnormally quiet for this time of year! Normally, I am bouncing all around the state/country in pursuit of whitetails during the best time of the year to hunt them; the rut. But there is a very good reason for my lack on inactivity, and the reason I am about to tell you about might just spark you to follow my lead if your eyesight is less than stellar and you have to depend upon eyeglasses! I underwent cataract surgery/lens implants last week and was told I could not shoot… even a bow for a couple weeks!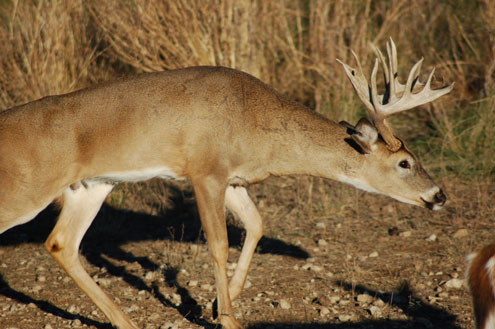 Because of recent eye surgery, Luke is doing his shooting this week with a camera rather than rifle or bow. Here's a nice buck he photographed recently. photo by Luke Clayton
Since my mid-thirties, I have had to depend upon glasses for not only reading but driving, shooting, fishing, everything that an active outdoors person enjoys doing. Not to mention writing outdoor articles on a computer and picture taking to accompany said articles. For the past 3 decades, I have been able to function pretty well as an outdoorsman with glasses, but I have had my share of misadventures as well. Like the time I was using a chain saw to cut a shooting lane from one of my hunting blinds to a corn feeder. It was midsummer and it was hot. In my haste to get the job done, I used the saw to rip through a wrist-thick Rattan vine. I should have looked up to see what was above me but I did not. What was above me was a Stetson had size wasp nest chock full of red, angry wasps. At least they were angry when I cut the vine loose from the tree.
Pursued by a cloud of wasp, I dropped the chain saw and headed out of there as fast as an old guy in his sixties can go. And this old guy can still move pretty fast when pursued by a bunch of wasps with their stingers aimed my direction! I sprinted about forty yards, far enough to get away from the majority of wasps when I tripped on a root and fell flat on my face. I jumped up and kept running, only to discover that I couldn't see where I was running! I my glasses fell off back at the root I tripped on!
I've been in enough real tights in my life not to panic. I would approach this situation in a logical manner. First, let the wasps calm down and then go back to the root where I tripped, get down on hands and knees and work a grid pattern, crawling around feeling with my hands like a raccoon until I made contact with those all important glasses. You just don't know the dismay until you are feeling through the leaves and make contact with the bent frame of your glasses with no glass in them! I must have stepped on the glasses when they fell off. No problem. Just call my wife and she could drive the truck to the gate. I could at least stay on the road and walk back to the gate. She could bring me an old pair of glasses that did not provide perfect vision but would suffice in a pinch! It took me ten minutes of "guessing" at the numbers I called trying to reach her. It was a bit uncomfortable explaining the reason to a couple of buddies for my "mis-dialing" them. All worked out fine when I finally reached her. She was at the gate by the time I got there and all was well.
Another time, I was backing my buddy's boat into the lake during the early morning hours in route to set out some duck decoys. I turned around to look behind me and one of the glasses FELL OUT of the frame. I had to get him to come help me find the lens and we somehow jammed it back into the frame! Very embarrassing but I was at least able to hunt that morning.
The list of mishaps goes on but you get the idea. I bet that those of you that hunt and fish and depend upon eyeglasses can also relate and add your list of mishaps to those that I have mentioned. Wearing eyeglasses is just a pain for those of us that spend a lot of time in the outdoors. They are either fogging up about the time that big buck steps within view of falling off. But for years I and I'm sure many of you have been very dependent upon looking through a couple of ground pieces of glass in order to see the world around you.
There is "light" at the end of this tunnel/column! One week after my second eye surgery, I am seeing 20-20 and my glasses are no longer needed for driving, reading or anything else. For another week or so I won't be able to lift over 20 pounds or shoot, which pretty much rules out any type of hunting but not to worry, I have plenty of "fodder" for upcoming columns for another week or so. The eye doctor said I couldn't shoot.. with a gun or bow… but I can still "shoot" with my camera.
I have been invited by one of the premier wildlife photographers in the country, Mr. George Barnett, to join him for some whitetail deer picture taking in a couple days! I am sure many of you buy George's whitetail deer calendar each year. His wildlife pictures have graces the pages of many popular outdoor publications through the years.
As an outdoors writer, I have taken thousands of pictures to accompany my outdoor articles and even been fortunate to have a few cover shots. But I'm certainly not a trained photographer and most of my really good images have been the results of knowing how to frame a shot and the automatic settings on my camera. I'm hoping to learn a trick or two from one of the best.
So, you see, there truly is always something constructive to do in the outdoors, even if we can't shoot a buck or hog or catch a fish for a few days!
Listen to Outdoors with Luke Clayton and Friends weekends on radio stations from Nebraska to Texas or anytime online at www.catfishradio.com.