Obituaries
E.J. Harrell
Dec 2, 2017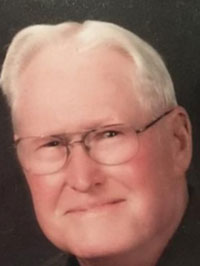 Ector, Texas -- Funeral services for E.J. Harrell, 87, of Ector, Texas will be held 2:00 p.m. Monday, December 4, 2017 at Wise Funeral Home Chapel in Bonham, Texas, under the direction of Wise Funeral Home. Officiating will be Rev. Rodney Sprayberry and Bro. Bruce Smithson. Interment will follow at Arledge Ridge Cemetery in Bonham, Texas. E.J. passed away on December 1, 2017. He was born February 16, 1930 in Marshall, Arkansas to Elmer Daniel Harrell and Lou Ora Jane Smithson.

E.J. was a graduate of Bailey High School. He married Helen Jewel Owens on August 19, 1950 in Wolfe City, Texas. E.J. served in the US Air Force from 1952-1956, during the Korean Conflict. He was a jet engine mechanic for many years at Perrin Air Force Base. In the early '60s he and Helen bought a farm near Ector. He worked at General Cable in Bonham for a few years. Later he was a truck driver for Gaylon Murray and VPG. Later in life he worked in the garden center at Walmart, until about 7 years ago. E.J. always had a big garden and well-groomed yard. He loved people and people loved him.

E.J. was preceded in death by his parents.

Surviving are his wife of 67 years, Helen Harrell; daughters, Cathy Brownfield and husband Dennis of Lamasco, Suzanne Bowers and husband Fred of Bonham, and Pamela Stockton and husband Gary of Ivanhoe; grandchildren, Dusty Brownfield, Bryan Bowers, Michael Bowers, D.J. Wells, Keven Bowers, Deryl Stockton and Amanda Hayes; 13 great-grandchildren, and sister, Willie Mae Woodruff of Celeste, Texas.

The family will receive friends at 1:00 p.m., 1 hour prior to service, on Monday, December 4, 2017 at Wise Funeral Home Chapel.

An online guestbook is available at www.wisefuneralhome.com.