Local News
McKinney Fire Department honored by Texas Fire Sprinkler Coalition
Nov 17, 2017
McKinney ranked highest for promoting fire sprinkler activations via media
McKINNEY, Texas (Nov 17, 2017) – The Texas Fire Sprinkler Coalition recently honored the McKinney Fire Department (MFD) during their annual Texas Fire Marshal Conference in Austin, Texas for promoting fire sprinkler activations via the media. MFD was recognized for receiving the highest number of sprinkler activations published through media. They accounted for 17 of 149 reported in Texas for 2017.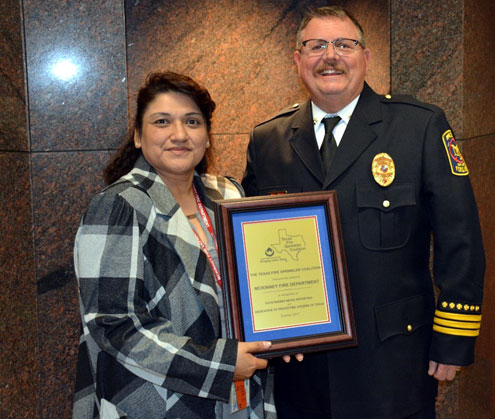 (L-R) Elizabeth Agan, McKinney Fire Department Public Information Coordinator, Michael Smith, McKinney Fire Marshal
The Texas Fire Sprinkler Coalition is dedicated to promoting the installation of fire sprinklers in homes. The coalition is a resource for information on home fire sprinklers and through a cooperative effort with stakeholders' works to identify and overcome barriers to the recognition of sprinklers as a critical component of home fire safety.
In 2016, there were 1,342,000 fires reported in the U.S. that caused:
· 3,390 civilian deaths
· 14,650 civilian injuries
· $10.6 billion in property damage
In 2016, fire departments responded to fire every 24 seconds. Of the fires reported:
· One structure fire was reported every 66 seconds.
· One home structure fire was reported every 90 seconds.
· One civilian fire injury was reported every 34 minutes.
· One civilian fire death occurred every 2 hours and 35 minutes.
· One outside and other fire was reported every 48 seconds.
· One highway vehicle fire was reported every 3 minutes 2 seconds.
"The promotion and awareness of fire sprinkler saves in our community by the Fire Marshal's Office (FMO), speaks highly on how essential fire sprinklers are in our commercial and multi-structural buildings. FMO, will certainly continue to keep our residents informed," said Fire Chief Danny Kistner.
For more information on fire and life safety issues, visit www.mckinneyfire.org or www.nfpa.org.