Local News
Last chance to submit marker applications
Nov 15, 2017
The Texas Historical Commission (THC) is currently accepting historical marker applications for subject markers, designated Historic Texas Cemeteries (HTC), and Recorded Texas Historic Landmarks (RTHLs).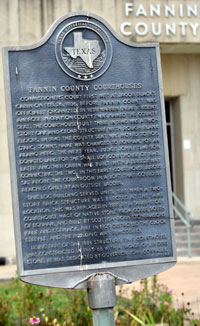 Applications must be submitted to the appropriate County Historical Commission (CHC) for review, and the deadline for CHCs to forward applications to the THC is November 15, via email, to markerapplication@thc.texas.gov. In addition to new applications, the THC will approve additional markers through the Undertold Stories marker program.

One of the most visible programs of the THC, historical markers commemorate diverse topics from the history and architecture of houses and commercial buildings to religious congregations and individuals that have made lasting contributions to state and local history. With more than 16,000 to date, historical markers can be found in all 254 Texas counties.

Applications for historical markers are available, along with a marker toolkit—a one-stop-shop providing the basic steps of applying for a marker—on the THC website at thc.texas.gov/MarkerApplication.

To learn more about the Official Texas Historical Marker Program, visit thc.texas.gov/markers or contact the THC's History Programs Division at 512-463-5853.