Front Page
Bonham City Council grants eligibility for city employees to retire after 20 years of service
Nov 15, 2017
Bonham -- During a regular meeting Monday, November 13, Bonham City council recognized retiring Fire Chief Brad Nichols, granted eligibility for city employees to retire after 20 years of service, and ratified two decisions by Bonham Economic Development Corporation.
The meeting opened with the October 2017 Financial Report by Dave Struchtemeyer, CPA, Director of Finance for the City of Bonham
"With October being the first month of the fiscal year, there is not enough financial data available to determine any trends in our financial results at this time," Mr. Struchtemeyer stated. "The negative variance in our revenue is due to the timing of Ad Valorem Tax receipts and is expected to recover throughout the year."
"The negative variance in the street department is timing as well," Struchtemeyer continued. "That variance represents the cost incurred on the Island Bayou bridge which was partially refunded by Federal Highway Administration in the month of November. We will continue to incur cost on this line item for the Main Street bridge with reimbursements to follow from FEMA at a later date."
Struchtemeyer revealed that sales tax collections for the month of September were almost 18% higher than sales tax collected in September of last year. For the month of November, sales tax revenue is 3.25% higher than this time period in 2016, which results in the City of Bonham's sales tax receipts for the year through November totaling 10% higher than last year at this time.
In the public forum segment of the regular meeting, a relatively new member of the community asked for better lighting along Liberty Street and stressed the need for more sidewalks.
Bonham City Manager Sean Pate replied that the city is studying areas that need additional outdoor lighting and mentioned that Bonham City Councilmember Jet Trubey had created awareness of TxDOT funds for sidewalks.
"It's not going to be overnight," Mr. Pate said, "but it is certainly something we are working on."
Michael Evans addressed city council and stated that is was questionable optics and procedures to have a councilmember make a presentation to the Planning & Zoning Committee.
Later in the regular meeting, Rusty Deets suggested a more effective microphone system in council chambers that would allow the audience to hear all of the discussions during city council sessions.
In a public hearing of considerable interest to employees of the City of Bonham, city council voted 4-2 to allow city employees in the Texas Municipal Retirement System to become eligible for retirement at 20 years of service, versus the current benchmark of 25 years of service.
Councilmember Jerry Gay expressed concern about the accuracy of the financial formula presented to city council regarding the impact of a 20-year retirement plan and made a motion contingent upon the validation of those numbers. Councilmembers Tony Rodriguez, Jet Trubey, Kevin Hayes and Gay voted in favor of granting eligibility for retirement at 20 years of service, with Bonham Mayor Roy Floyd and Councilmember H. Compton casting the two opposing votes. Mayor Floyd would later say that he felt the two "no" votes were out of concern for what is best for city employees as well as the City of Bonham
******
Bonham City Council unanimously voted to approve a financial agreement in order to procure equipment and technology at a cost of $231,983.00 with an interest rate of 3.534%. The City of Bonham agreed to make five annual payments of $51,550.57, beginning one year from signing the agreement.
*****
Bonham City Council ratified the BEDCo board's authorization to provide "reimbursable funding" of up to $80,000 for professional engineering services needed to prepare an application to Texas Water Development Board. Councilmembers also ratified BEDCo's decision to accept a $9,345.00 proposal from Aerial Focus to develop additional mapping and a "data drop" into the city's new website.
*****
Retiring Bonham Fire Chief Brad Nichols was recognized for his 26 years of service to the City of Bonham.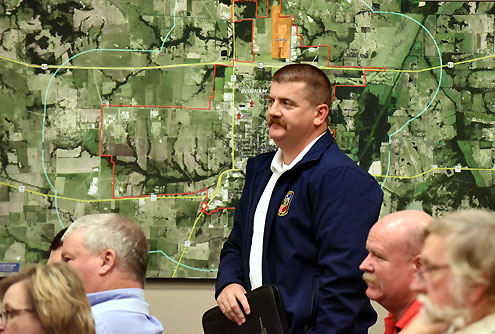 Brad Nichols
A reception to honor Chief Nichols will be held Tuesday, November 21, from 3:00 p.m. - 4:00 p.m. at Bonham City Hall.