Local News
Local food pantry needs your help
Dec 30, 2017
In this great country of ours no one should ever go hungry, yet it happens every day to both young and old. Families are struggling to put food on their tables, sadly sometimes there's just not enough. Our small food pantry stands ready and willing to help - the Wolfe City Food Pantry serves about 125 families, or approximately 375-400 hungry men, women & children. We are a 503(c)3 non-profit organization striving to feed hungry people right here in our communities providing over 100,000 meals last fiscal year.
On the 1st & 3rd Wednesday of each month our selfless volunteers are up & at 'em bright and early to serve the hungry people of our community. Volunteers meet early that morning because heavy cases and pallets of food must be moved, organized and packed into bags from the offsite warehouse. Then those bags are loaded onto a trailer & into the back of trucks, hauled to the distribution point & unloaded before clients ever begin showing up that afternoon. There's lots of heavy lifting!
Then when clients arrive our volunteers even carry those heavy bags to client's cars for them and unload the food into the their own boxes and bags. All of this is done year round in frigid mornings of 12 degrees or blazing afternoons of 106 degrees. Each distribution day demands 4.5 to 5 hours of work from each volunteer, time that is freely offered by each and every one.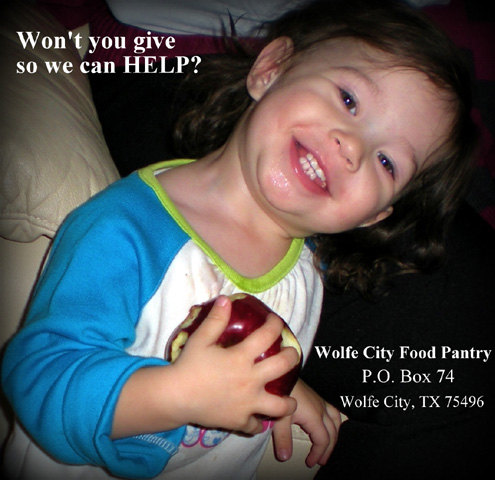 But we can't do it alone. Times are tough for many across the nation and donations are down, yet the cost to obtain this vital nutrition for those in need has risen. Won't you help fill a tiny tummy with nutritious food? If you would like to make a donation to the food pantry, the remittance address is as follows:
Wolfe City Food Pantry
P.O. Box 74
Wolfe City, Texas 75496
Any amount at all will help. Step up & show love today - YOU can make a difference.