Entertainment
Kathryn Keeton and the history of Tulip, Texas
Oct 10, 2017
Fannin County, Texas -- Kathryn Gibbs Keeton, perhaps the most famous Fannin County cowgirl, passed away in July 2017 at the age of 98. A remembrance of her life also provides a history of the most northern part of Fannin County and the lives of cowboys and farmers in that area in the early part of the 20th century.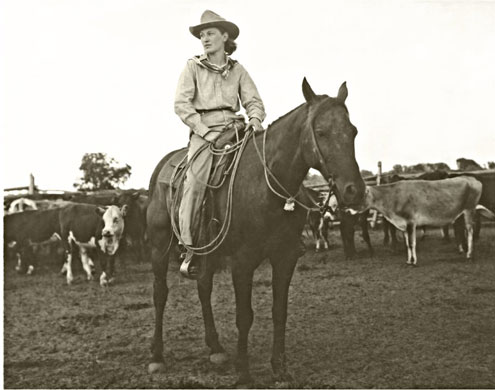 photo taken by Erwin Smith on September 8, 1935, on Kathryn's 17th birthday
The description of Tulip in "Fannin County Folks and Facts" says that Tulip was the first permanent settlement in Fannin County and was settled in 1836 when Daniel Rowlett and others settled the area. In his 1885 "History of Fannin County," W. A. Carter said that Tulip had a Masonic lodge, a school, one general dry goods store, a blacksmith and wood shop, two gins and a mill and a church house. Mr. Carter remarked on the rich red lands and fine orchards.
Kathryn's father was Dennis Gibbs, who was brought to Fannin County in the early 1900s with his three brothers after his mother had died in the Indian Territory. He was by all accounts a very hard working and energetic man who started with nothing and through very hard work and likely quite a bit of smarts accumulated significant land holdings in the Tulip area.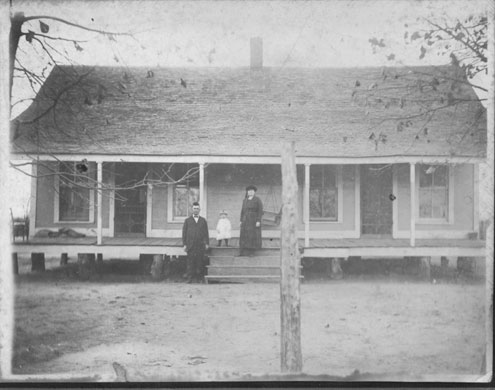 photo courtesy the Keeton family, is of Dennis and Amy Gibbs and young Kathryn, in front of their home in Tulip, which no longer exists
Dennis Gibbs first rented land from Percy White and later from his daughter Mary Alice White. Percy White was the stepfather of Erwin Smith and Mary Alice White was Erwin Smith's half sister. This is how Erwin Smith came to visit the Gibbs' household many times and to take the remarkable photos of Kathryn. But more about that later.
Ten years ago, in 2007, Gregory Hall conducted two oral interviews with Kathryn Keeton, and much of the information in this article is derived from those interviews.
Kathryn was an only child. Her mother, Amy Lambert, was crippled with arthritis.
According to Kathryn, her father farmed land and used hired hands for that work. His other business was that of a stockman. He bought cattle and hogs from the local population and took those animals to Ft. Worth to sell. As Kathryn said, the local folks who had a hog or two to sell had no one to sell it to, so Dennis Gibbs provided the opportunity for them to raise cash as he took their animals to market.
Dennis Gibbs would also haul cotton to the gins and bring back supplies for the general store in Tulip. It would take one day to go to Bonham and one day to return.
Kathryn spoke about the remoteness of country living, but said that there was a general store, a post office, a gin and a school in Tulip, as well as of course a church, so they had what they needed and made their own fun. They had a radio, and enjoyed the Grand Ole Oprey.
She attended the Tulip two room schoolhouse; later a third room was added. The Tulip school went to the ninth or tenth grade; then the students were bused into Bonham for the 11th grade. Kathryn graduated from Bonham High School. In the rural schools at the end of the school year, every school put on a play and community members from all over the area would attend each of the plays. The plays were held outside and a stage was built at each location for the performances, which were widely attended.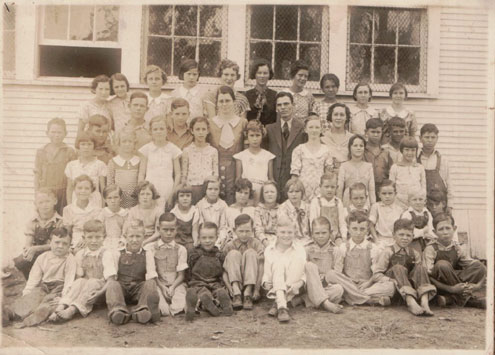 photo courtesy the Keeton family, is of the Tulip school. Kathryn is the first girl from left on the back row
At first the church was non-denominational. Then a Methodist Church was built. Kathryn was baptized in Club Lake, the forerunner to Lake Fannin.
The Gibbs adopted Bill Scrivner during the time of the depression. He was five years older than Kathryn and was raised as her older brother. He was her Daddy's right hand cowboy, in charge of everything when Dennis Gibbs was away.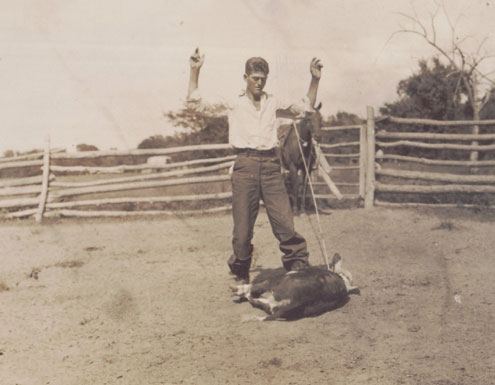 photo of Bill Scrivner, taken by Erwin Smith, courtesy of Donna Scrivner Mosley
Kathryn married Leon Keeton, a farmer and rancher. They had three sons: Tommy, Kerry and Dennis. In later years she was involved in helping to run the ranch and farm and preparing the meals for her extended family and hired hands. She enjoyed finding and restoring antiques. She was deeply religious.
As previously discussed, Erwin Smith, the famous cowboy photographer, was a frequent visitor to the Gibbs home. Kathryn said that she had known Erwin Smith all her life and that he ate with them frequently. He took three wonderful photos of Kathryn as a cowgirl, and these photos have made her the most famous cowgirl of Fannin County. A note on the back of one of the photos notes that the photos were taken on September 8, 1935, which would have been her 17th birthday. Two of the photos are of Kathryn on her favorite horse Charlie, which she called "the best quarter horse in the country." In one photo Kathryn is near Red River.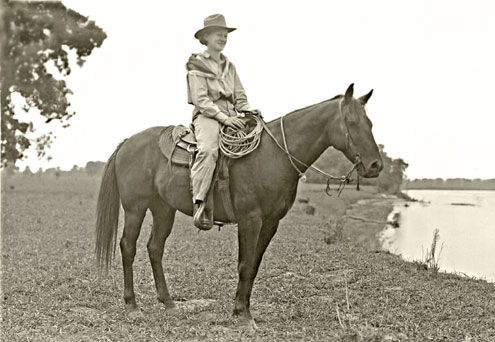 photo by Erwin Smith
The third photo shows Kathryn in the background with boys in the foreground roping a calf. Kathryn identified two of the boys as Buck Lorance and Lloyd Dodson. The man at the back was Wayman Johnson, who was also a well-known Fannin County cowboy. The third photo was taken in Wayman Johnson's coral.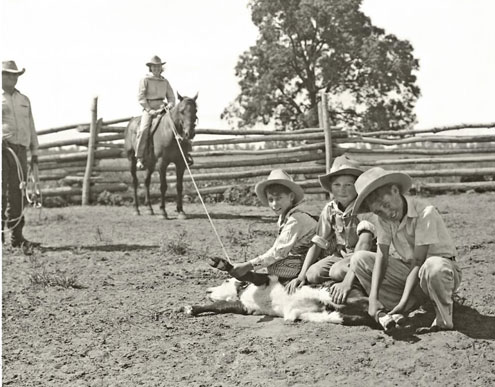 photo by Erwin Smith
Kathryn said of Erwin Smith, "I had a place in that man's life, and he had a place in my life and in Bill's and in my Mother and Daddy's. And when Mary Alice would come in from New York . . . Erwin would always bring her."
Erwin Smith also gave Kathryn a pair of spurs, which the family still has, saying to her: "You ride like an Indian."
As a young girl Kathryn would ride a horse to visit her Grandmother Lambert who lived in Ridings. She would also ride to Mulberry and Corinth for parties and visiting "all the time."
Kathryn especially remembered one time she rode with her father to drive a load of horses from Tulip to the railroad depot in Bonham, driving the horses down Center Street in Bonham. She thought that "was about the grandest thing there ever was." "I drove cattle through Bonham on a horse." "That was a big thrill of mine."
Kathryn got a horse at the age of 8, but was riding long before that. It was "the joy of my life" to ride on her horse Charlie. "I could just lose my life when I was on that horse and riding."
Every afternoon on the ranch her job was to ride her horse to Red River looking for cattle who might have strayed into the bog.
Gregory Hall asked her: "Would it have been uncommon for young women to ride horses like you did?" Kathryn answered: "I was the only one in the country to do that."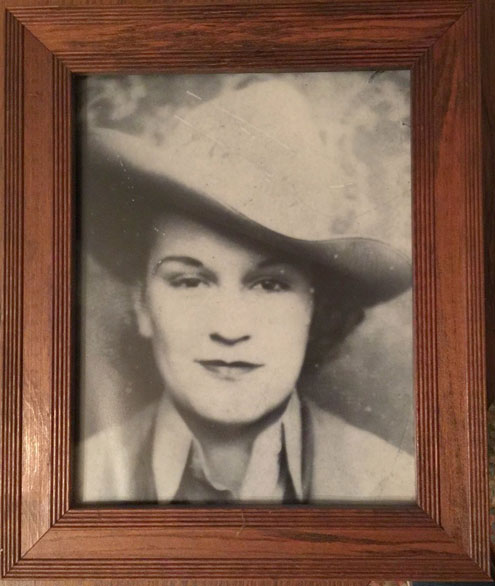 photo courtesy the Keeton family
Many thanks to the Keeton family for providing the photos for scanning, and to Casey Jones for assistance with the photos. We are indebted to Gregory Hall for his foresight in conducting the oral interviews.
These photos are currently on display at the Fannin County Museum of History. We invite you to see them at the Museum, and enjoy the many other beautiful and interesting items at the Museum.