Front Page
Fannin County Commissioners Court declares October to be Domestic Violence Awareness Month in Fannin County
Oct 5, 2017
Fannin County, Texas -- During a regular meeting Tuesday, October 2, 2017, Fannin County Commissioners Court read the revised salary of the county auditor into the minutes, re-appointed Monica Kissling to the Fannin County Hospital Authority Board and approved the use of Pct. 4 county barn for Fannin County Literacy Board's annual Recycle Event on October 7.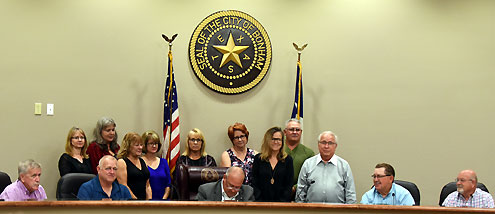 Surrounded by county commissioners and members of Fannin County Family Crisis Center, Fannin County Judge Spanky Carter holds a proclamation declaring October to be Domestic Violence Awareness Month in Fannin County.
The meeting opened with an invocation by David Woodson, followed by the approval of minutes from previous meetings.
In the Public Forum segment of commissioners court, Fannin County Judge Spanky Carter read aloud a letter from Ector resident Valeta Abbott that endorsed the recent action of the court regarding restoration of the 1888 Fannin County Courthouse. Ms. Abbott's family said the letter had been sent to the local paper of record, but it was not published.
To: Fannin County Judge Carter and Commissioners, Mr. Whitlock, Mr. Barker, Mr. Magness, and Mr. Lackey,

I want to say thank you for all the things you are trying to do for Fannin County. Everyone wanted a new courthouse. Now that it is in the works, some are not happy because they can't have everything they want. No matter what you do, you can't please everyone.

Fannin County is made up of small towns and friendly people who work hard for what we have. It is not a city of wealthy people. Everyone has a budget and if we overspend, then we are in trouble.

I just wanted to say not everyone is against what you are doing for the county. This is what the people elected you for, and I think you are doing a good job."

Thank you,

Valeta Abbott
*****
Paul Chandler, Fannin County Veterans Service Officer, presented a report that included 404 client contacts during 31 office days.
*****
Fannin County Commissioners Court unanimously re-appointed Monica Kissling to the Fannin County Hospital Authority Board.
*****
Commissioners Court approved waivers listed in the Short Plat Procedures (1) 3.5 Construction Plans and (2) 3.6 Construction Bonds in regards to 3D Ranch Addition in Fannin County. The court also approved the 3D Ranch Addition to Fannin County.
*****
Fannin County Commissioners Court approved the purchase of toner for two HP laser jet printers, two Dell printers, and one Brother Fax machine, not to exceed $1,450 to be paid for out of Justice Court Technology Fund.
Judge Royce Smithey explained that House Bill 1913 requires his office to print more documents.
*****
Commissioners court discussed an Order signed September 21, 2017 setting salary of the county auditor.
While Texas government code allows district judges to set the salary of county auditors and county commissioners have no say in the matter, it stipulates that the salary cannot be higher than the highest-paid county official.
In June 2017, 336th District Judge Lauri Blake set the salary of Fannin County Auditor Don Grammar at $78,126.18, however that was almost $8,000 more than Fannin County Judge Spanky Carter's annual compensation of $70,716.75.
At the regular meeting held October 3, 2017, commissioners read a revised order into the public record that sets the county auditor's salary at $70,716.75.
LOCAL GOVERNMENT CODE
SUBCHAPTER C.
AMOUNT OF COMPENSATION AND EXPENSES OF COUNTY AUDITOR AND ASSISTANTS
Sec. 152.031. COUNTY AUDITOR'S SALARY. (a) At a hearing held in accordance with Section 152.905, the district judges appointing the county auditor shall set, by a majority vote, the auditor's annual salary as compensation for services and the auditor's travel expenses and other allowances. The action of the district judges must be taken by order and must be recorded as prescribed by Section 152.905 and in the minutes of the district court.

Sec. 152.032. LIMITATIONS ON COUNTY AUDITOR'S COMPENSATION AND ALLOWANCES. (a) Except as provided by Subsections (b), (d), and (e), the amount of the compensation and allowances of a county auditor may not exceed the amount of the compensation and allowances received from all sources by the highest paid elected county officer, other than a judge of a statutory county court, whose salary and allowances are set by the commissioners court.
*****
In other business, Fannin County Commissioners Court approved a Memorandum of Understanding between the SPCA of Texas and the Fannin County Sheriff's Office in regards to the assignment of two licensed peace officers as special investigators to Fannin County; approved the LexisNexis Advance Subscription Agreement for State/Local Government; discussed the increasing danger of fast-moving grass fires due to lack of rain; approved the use of Precinct 4 Barn by the Fannin County Literacy Board for annual Recycle Event on October 7, 2017; and approved the Engagement Letter of Rutledge Crain & Company as outside auditors for year 2016/2017.
*****
The meeting concluded with comments from members of Fannin County Commissioners Court.
Pct. 2 Commissioner Stan Barker expressed appreciation for the Bonham Fire Department's work extricating Mr. Barker's daughter from a vehicle following an accident and for the dedication and professionalism of all law enforcement personnel at the scene.
Pct. 4 Commissioner Dean Lackey reminded county residents that Fannin Literacy Council's annual free Recycling Event will be held on Saturday, October 7 at the Fannin County Precinct 4 Barn, located at 1369 E. Sam Rayburn Drive in Bonham, from 9:00 a.m. until noon. Donations will help ensure proper recycling and save valuable landfill space. They will accept computers, printers, office equipment, microwaves, appliances, ATV's, lawnmowers, sporting goods, musical instruments, vacuum cleaners, power tools, sewing machines, books, toys, collectibles, cookware, and pottery. They cannot accept clothes, furniture, hazardous materials, brush/tree limbs, CRT monitors, tires, televisions, mattresses, or household trash.
Commissioner Lackey will be wearing pink throughout the month of October in observance of Breast Cancer Awareness Month.
Judge Carter told about visiting Virginia Point United Methodist Church, the oldest Methodist church in continuous service in North Texas, to present a proclamation on behalf of Fannin County Commissioners Court, recognizing a church founded in 1834 by pioneer families from Virginia. Church members prepared a delicious meal and served a crowd estimated at 200-250 people.
"They never lock their doors -- never have in 180 years," Carter said. "It was nice to watch how those people come together and take care of each other. It really moved me."