Local News
Sprinkler system prevents major damage to Collin County Animal Shelter
Oct 2, 2017
McKinney, Texas (Oct 2, 2017) – McKinney Fire Department (MFD) responded to an incident Sept. 28 at The Collin County Animal Shelter, 4750 Community Ave, just after 5:00 p.m. First responders upon arrival noted the fire alarm was sounding and strobes activated.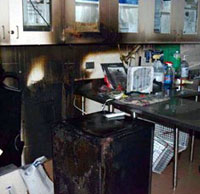 The investigation revealed the fire sprinkler system had activated and extinguished the fire within the shelter. A single sprinkler head is credited for the minimal fire damage and reinforced the value of fire sprinkler systems. Shelter staff reported no injuries to the 124 sheltered animals.

Approximately 26 MFD personnel and investigators from the Fire Marshal's office responded to the fire. No injuries were reported. The cause of the fire is under investigation.

"This successful sprinkler save continues to demonstrates the effectiveness of automatic fire sprinkler systems in a commercial environment. Had a fire sprinkler system not been present, the outcome may have been very different," said Deputy Fire Marshal Andrew Barr.

For additional information on fire protection systems, code requirements or other fire prevention topics, visit www.mckinneyfire.org or call 972-547-2862.