Entertainment
French family visits Honey Grove
Oct 13, 2017
Honey Grove, Texas -- A French family who has adopted the grave in France of a Honey Grove boy who died in World War II visited Honey Grove last Friday. They were honored at a luncheon sponsored by the Honey Grove Preservation League, the Fannin County Historical Commission and the family of J.C. Kilpatrick.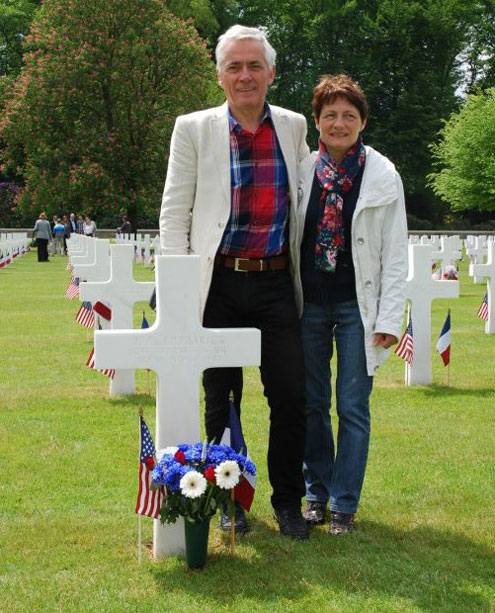 J.C. Kilpatrick, the son of Mr. and Mrs. U.B. Kilpatrick who lived four miles southwest of Honey Grove, was killed in action on November 6, 1944 in France. He was a member of the 36th Division of the 7th Army, and had seen action in North Africa, Sicily, Italy and France. He was one of about 40 young men from the Honey Grove area who were killed in World War II.
The remains of J.C. Kilpatrick are interred at the Epinal American Cemetery in Epinal, France. There is a program in France whereby French citizens adopt the graves of American soldiers and honor these graves with flowers and in other ways.
Ginette and Philippe Collé have adopted the grave of J.C. Kilpatrick. They contacted me from France by email to learn more about him. They have a son who now lives in Oak Cliff, and during a visit to see their son and his family expressed a desire to come to Honey Grove to see where J.C. Kilpatrick grew up. I contacted family members, including the 97 year old sister of J.C. Kilpatrick, Margaret Parrish, who now lives in Burkburnett, and the luncheon was organized.
We were honored to have in attendance State Senator Bob Hall and his aide John Vick. Senator Hall's father also fought in World War II and was in the 36th Division of the Army. Senator Hall presented Ginette and Philippe with a Texas flag that had flown over the State Capitol and expressed his appreciation for their actions.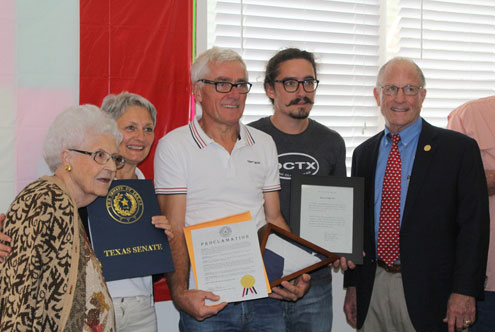 Larry Standlee, co-chair of the Fannin County Historical Commission, presented Ginette and Philippe with a resolution passed by the Fannin County Commissioner's Court welcoming the family to Fannin County and thanking them for the respect they have shown to one of Fannin County's fallen World War II soldiers.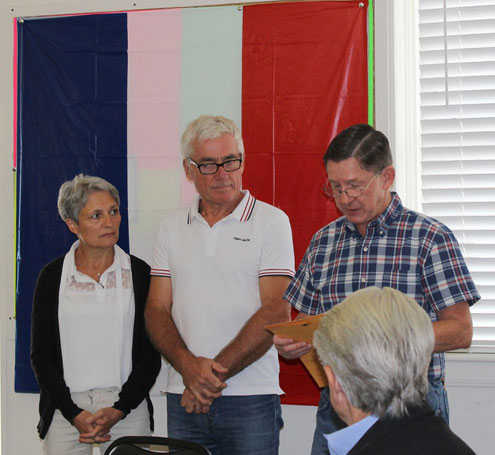 Claude Caffee, mayor of Honey Grove, presented them with a key to city, Honey Grove's highest honor.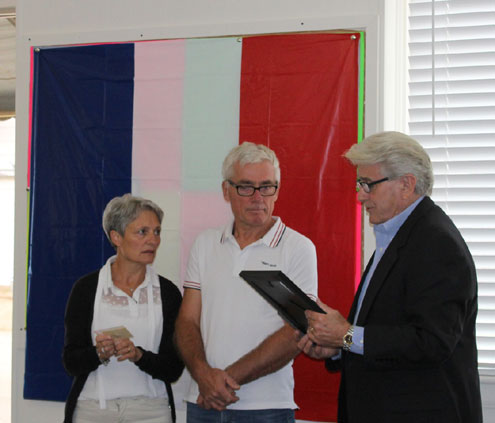 Margaret Kilpatrick Parrish, the remaining living sister of J.C., spoke about her brother, recalling what a loving person he had been and that he had been wounded three times before his death. She brought a shadow box with all of his medals, including his Purple Hearts. She said that he had enlisted and set off the next day with a few clothes in a paper bag, in large part to escape from work on the farm. It was clear that she still misses him very much.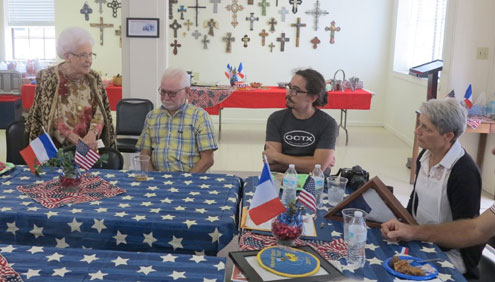 There was a large gathering of Kilpatrick cousins who enjoyed a wonderful lunch prepared primarily by Freida Moreland and Barbara Caffee in a setting decorated with United States and French flags.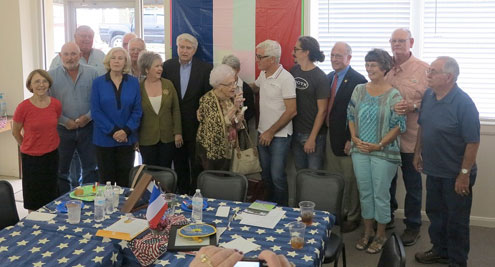 Everyone enjoyed the fellowship with the Collé family. We are confident that they will return to France and tell their friends and neighbors about the friendship and honor bestowed upon them by a small town in Texas. And for at least one Friday in September in Honey Grove, thanks to the Collé family, J. C. Kilpatrick's sacrifice and the sacrifice of the Kilpatrick family was very much remembered.