School News
Partnership between Texoma Community Center and Denison High School formed
Nov 27, 2017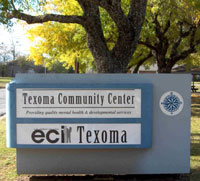 Texoma Community Center's Substance Use Disorder (SUD) Treatment Program has partnered with Denison ISD to provide substance use education to students involved in extracurricular activities who meet criteria for the education program.

According to TCC SUD Program Director, Kristi Gourd, "This is an exciting opportunity for our team to step into the high school and meet adolescents at a highly vulnerable stage in their development. The TCC SUD team is hopeful that through education, we can prevent and/or interrupt the onset of substance use disorders in teens."

The TCC SUD Treatment Program is located at 315 W. McLain Street in Sherman. "While we are not able to provide adolescent substance use treatment services at this time, education is a great place to start," according to Gourd.

Communication and collaboration with various law enforcement and social service agencies have demonstrated the need for outpatient adolescent treatment inside of TCC's catchment area.

The snag is finding the funding to start the programming. Currently, TCC SUD provides the following services:

· Adult Outpatient Substance Use Treatment

· Adult Specialized Female Outpatient Services

· Outreach, Screening, Assessment, and Referral to treatment (this service is available to adolescents as well as adults)

· Office Based Opioid Treatment

· Drug Offender Education Program

· DOT SAP Assessments

For more information on any of the substance use programs offered call 903.957.4803.