Religion
Human rights lawyer to speak to local Unitarian Universalists
Sep 19, 2017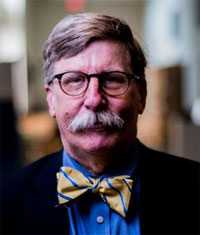 Bill Holston, executive Director of Human Rights Initiative of North Texas will deliver the morning message this Sunday at Red River Unitarian Universalist Church during the 11:15 Assembly.

Holston has provided pro bono legal representation for political and religious asylum applicants, representing clients from 21 countries in Immigration Court or before the Houston Asylum office. His remarks will trace the difficulties for immigrants to our country and focus on some particular challenges in the current era. Since 2008, he has been an avid mentor to young lawyers in the Dallas Bar Association's Transition to Law Committee.

Holston is a member of the North Texas Chapter of Master Naturalists, guides hikes in the Great Trinity Forest and is an Eagle Scout. He is a commentator for KERA, and writes a column for D Magazine's Front Burner, Law Man Walking.

Starting this Sunday the church's 10 AM Adult Forum will begin a video/discussion course "How Jesus Became God." This Great Courses series explains: "If Jesus had not been declared God, his followers would have remained a sect within Judaism, and the massive conversion of Gentiles, the Roman adoption of Christianity, and the subsequent unfolding of the Middle Ages, the Renaissance, the Reformation, and modernity would never have taken place. For that reason, the question of how Jesus became God is one of the most significant historical questions of Western civilization." The class is open to everyone interested.

Red River Unitarian Universalist Church, 515 North Burnett Avenue, is a Love Beyond Belief congregation that aspires to explore religious questions in an atmosphere free from requiring members to subscribe to any creedal or dogmatic statements. Rather, Unitarian Universalists are expected to delve into theological matters individually so they might find meaning in a faith that believes in the inherent worth and dignity of every person. No exceptions. For many such a faith is difficult to appreciate.