Entertainment
Red River Scrapbook: Tin can sailor
Aug 17, 2017
When the USS Wren (DD 568) went to general quarters, Billy McKinney's action station was in the after engine room, deep within the destroyer's guts. He could not hear the thump of the 40mm Bofars anti-aircraft guns or the crack of the five-inch main battery, but he could feel the vibrations as they fired.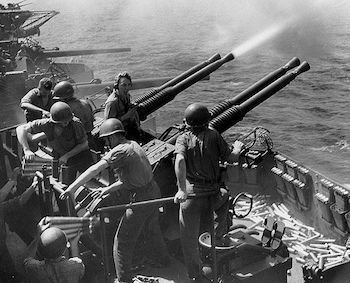 Bofars 40mm battery in action
Off Okinawa, in the spring of 1945, when the kamikazes and the suicide boats challenged the U.S. invasion force, it was the Wren and her sisters—2,100 ton destroyers of the Fletcher class—that stood forward on the Advance Radar Picket Line to warn and protect the fleet. "We were just coming into the harbor when we got to Okinawa when we had to go to GQ [general quarters], and a Betty bomber came down on us, and the wing tip hit the bow," said McKinney.

"Of course, down in the engine room, we never knew what was going on up top. We had a "talker" down there with a telephone, and he'd relay messages to us, but that was about it.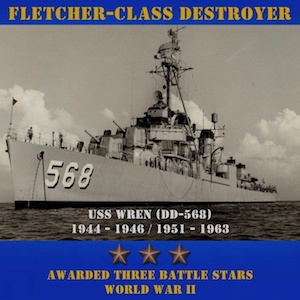 USS Wren (DD 568) Small ship; big war
"Later on they'd send us out on picket duty. They'd send three destroyers and leave two LSTs [landing ship tank] back on the horizon, to pick up survivors. Two times the suicide boats came out—little boats with the bows packed with explosives. The 40s and the five-inchers were radar controlled. They'd turn the 40s on one and the fives on another and shoot until they went away, until there was nothing left to shoot at."

From early April through the middle of June, the Japanese sent 1,465 suicide planes against the U.S. Navy in the Ryukyus. Sometime they came singly or in small groups, sometime in waves. The navy lost thirteen destroyers sunk, and 118 destroyers and destroyer escorts damaged during the campaign.
***
When Billy McKinney graduated from Sherman High School in 1938, he could never have imagined what he would see and do in the next seven years. He got a job at Gus Turley's grocery store, where he learned the butcher's trade. After a stint as a butcher at Sampsell Grocery, McKinney opened his own store at the corner of Willow and Grand. "Nearly starved," he said. "I didn't have enough money to stock it properly."

McKinney married Ozelle Jones on November 3, 1940, and the couple lived in a small apartment attached to the store. His father was a boilermaker at the Frisco shops, and with that inside connection, McKinney gave up the grocery business and joined his dad at the Frisco as an apprentice machinist.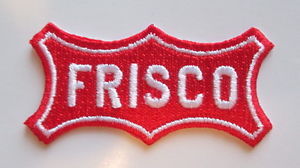 The senior McKinney had been a bluejacket in the U.S. Navy during the Great War, and had filled both of his sons, Billy and his younger brother, Jim, with a love for the naval service. A few months after Pearl Harbor, McKinney took a draft classification physical and the doctor, a friend of his, suggested he go ahead and join the navy before the army got him.

McKinney took the oath at the post office in Sherman, and set off for boot camp in San Diego. "The day I left for the navy I got a six-month exemption because of my work for the railroad, but it was too late then." That was all right; Billy McKinney was more than ready to go.

Gone for a sailor

For a young man who wanted to be a sailor, it seemed to McKinney that his boot camp training was more suited to the infantry. "Seemed like all we did was march and get shots," he said. "I guess it was to get you used to following a command."
Part way through the training, the recruits who had special talents got the opportunity to try for a rate. "I told them I was a machinist, so they sent me down to take the test."

The test ran to nine pages, with the final page devoted to math. It took a score of 2.5 to qualify; McKinney, whose math skills were limited at best, made a 2.48. "The chief said, 'Son, you seem to know what you're doing, but you don't know a darn thing about math. I'm going to pass you anyway, but go down to the library and get a book on math."

Prometheus bound

With the newly earned screw propeller device of a machinist mate on his sleeve, McKinney left boot camp before the other members of his group and headed for his first ship. "I had never been out of Sherman, and I was all by myself, headed for Seattle. I had a lower birth on a Pullman all by myself. Some GIs were across the aisle from me, and they were sleeping two to a bunk. When I got to Seattle, I took a ferry to the Navy Yard at Bremerton, where the Prometheus was docked."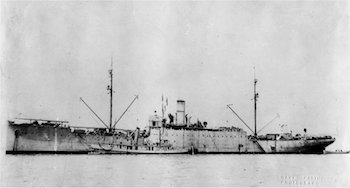 USS Prometheus (AR 3)
USS Prometheus (AR 3) was a repair ship. She was laid down as a collier in 1907 and commissioned in January 1910. In 1913, she was converted to a repair ship, a floating factory capable of almost any repair job the fleet needed. She was on the navy roles until decommissioned in 1924.

Like many old sailors, she answered the call again in 1942, and just had been re-commissioned when Billy McKinney joined her at Bremerton. McKinney also was trained as a diver, a skill that came in handle early in his service on the "P." "We went down to San Diego on the shakedown cruise, and they were trying to bring a movie projector aboard when they dropped it in the water. I got into my diving equipment and went down. I couldn't even see my hand with a light, so I went down a few feet and just stayed there for a while. I came back up and told them I couldn't find it."

After the shakedown cruise, Prometheus sailed for Pearl Harbor. "For six months or so, we were tied up to the dock at Pearl Harbor, repairing all of the stuff that had been blown up in the raid," said McKinney. "After that, we put to sea, towing a floating dry dock at seven knots an hour.

"We finally ended up in Noumea, New Caledonia. On the way we stopped in Pago Pago. I'd always heard of Pago Pago, but I always thought they were spoofing me. But there is was, and I actually saw it."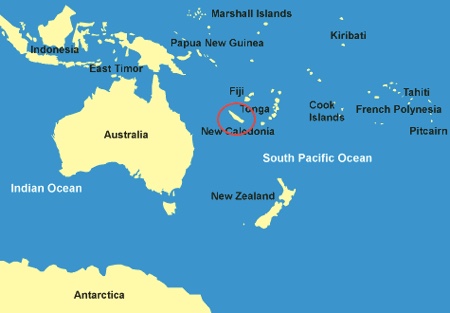 New Caledonia
New Caledonia, a French colony in the Loyalty Islands between the east coast of Australia and Fiji, was an important Allied naval base set up in 1942 to support the campaigns in the Solomons, New Guinea, and the Coral Sea. Prometheus stayed in New Caledonia until the spring of 1944.

"We could repair just about anything," McKinney said. "Just before I left, the USS Columbia (CL-56) (light cruiser, Cleveland class) came along side. She was brand new out of the shipyard, and had trouble with the turbines. We put a new high speed turbine in her; the first time it had ever been done outside of a navy yard."
In some ways, working on the Prometheus was not that much different from working in the Frisco shops in Sherman, McKinney said. "I'd go to work every morning, take off at lunch, and then go back to work." There were occasional R&R trips to Sidney, Australia, but most of the time, life was the day-to-day business of keeping the fleet at war.

"I had a storekeeper friend from Dallas we called 'Zoot Suit Jack.' I don't care where we were, he could come up with a bottle and a ticket to something. He was with me when we went to Australia for two weeks rest and recreation. That's where I went to the opera, when Zoot Suit got some tickets."

After his father made a special request to an admiral, McKinney's younger brother, Jim, a storekeeper, joined him on the Prometheus. The brothers served together on the "P," until Billy was reassigned and ordered back to the States in late 1943.

Next week: Tin can sailor – Part 2