School News
Long-forgotten love letters inspire SMU student filmmaker
Dec 25, 2017
DALLAS (SMU) - Jessica Cole had a simple wish for her grandmother on that summer evening in 2015 – she wanted a challenging day for Sybil Gregory to end on a good note. Jessica's efforts brought a light to her grandmother's eyes, and came to life in film as the SMU film and media arts major's senior thesis.
At age 97, Sybil was living with the effects of dementia and could no longer manage alone. Jessica and her parents had recently moved to Nacogdoches, Texas, from Palmer, Alaska, to help with her care.
Jessica now slept in the middle bedroom in her grandmother's house, amid shelves filled with books, framed photos and ancient knick-knacks. Tucked on the tallest shelf was a wooden cigar box filled with packets of faded letters tied with string, written to Sybil by her late husband, Weldon. The oldest of the 70 letters dated to 1936.
Remembering the contents of the box, Jessica selected a letter, joined her grandmother at the kitchen table and began to read.
"I knew it was a magic moment," Jessica says. "I could see it on her face. She remembered. As a 22-year-old, I was seeing my grandmother as a 19-year-old."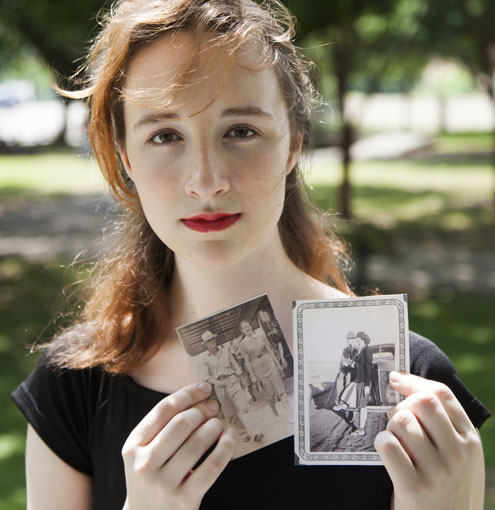 Jessica Cole with family photos.
The letters spelled out a hand-written narrative of her courtship and eventual marriage. Nineteen-year-old Sybil Reese lived one town away from Weldon Gregory in West Texas in the 1930s, when communication by letter was common. The young couple secretly corresponded before marrying when Sybil was 19 and Walter was 20.
"He called my grandmother 'his baby girl,'" she said.
The collection inspired Jessica's film, Missing Pieces, set in rural Texas in the 1940s. In the film, a granddaughter reconciles her relationship with her grandmother, who has dementia. The two find a connection after the discovery of a box of letters from her grandfather. Here is a link to the film's trailer.
Producing a film is a requirement for SMU's BFA in film and media arts. The year-long project gave Jessica an opportunity to remember her grandmother and sharpen her talents and passion for production design.
"A production designer works with the film director to create the world that the camera explores," Jessica says.
Jessica recreated her grandmother's world for Missing Pieces by researching things like hem lengths of women's dresses, tie widths, car makes and architecture from the period. Dallas Heritage Village, a 21-building living history museum south of downtown Dallas, provided the ideal vintage setting for the film. A local car club lent a 1949 Dodge to complete the set. SMU's Engaged Learning program helped fund the production.
"Most students won't make a film set in a specific time period because it's a logistical nightmare," Jessica says.
The crew also filmed at a farm near Fort Worth: "Have you ever seen a bunch of college students and adults turn into 10-year-olds at a petting zoo?" Jessica says. "I think 30 minutes of the shoot that day was dedicated to loving on horses, donkeys and barn cats."
Jessica's fascination with production design began when she attended a BBC theatrical production, Walking with Dinosaurs, as a high school sophomore. At the intermission of the arena show, which featuring life-sized, three-dimensional animatronic dinosaurs, Jessica climbed to the top rows of the arena to question the puppeteers about their experiences.
"When the show began after intermission, one of the puppeteers lowered a dinosaur head to our row, where he stared at me face-to-face," Jessica said. "That experience is what brought me here."
Jessica transferred to SMU to study film and fine arts after attending Stephen F. Austin University in Nacogdoches her first year. The opportunity to work with fellow students on production crews, the professional quality of the SMU film department equipment and flexibility of faculty to help her develop skills in her area of interest sealed her decision to study film and fine arts at SMU's Meadows School of the Arts.
"We want students to learn the "rules" of form, genre and the like, but we also want them to feel bold enough to know how to push the envelope, and challenge themselves," said Derek Kompare, associate professor and chair of SMU film and media arts. "We encourage them to express their creativity and try to find another compatible field for a minor. In Jessica's case this was art, which was a perfect combination."
Jessica eventually came full circle to her dinosaur-related career inspiration through a requirement for her senior media career preparation course. When assigned to contact an expert in her chosen area for advice, Jessica contacted Phillip Millar, associate creative director of Creative Technologies and a key visionary behind the BBC-production of Walking with Dinosaurs.
"He told me that what I want to do – production design – is a niche, within a niche, within a niche. He said it would be easier to become an astronaut, because that is a set course," Jessica says. "He advised me to just make stuff, and that my work will speak louder than my words. He also gave me permission to reach out any time with questions. I'm still a little floored by that."
Jessica's goals aren't necessarily traditional, says Sally Helppie, SMU adjunct professor and instructor of the media career preparation class. "She knows what she wants to do and continues toward those goals. The Film and Media Arts Department encourages students to find their own voices and pursue their own paths with enthusiasm."
Her grandmother's romance will live on in Jessica's film, which she is submitting this summer to film festivals. Having graduated from SMU on May 20, Jessica will pursue her goals this fall as one of 14 production design fellows selected to attend the American Film Institute's Conservatory in Los Angeles.
In addition to sharpening her skills in production design, creating her film touched Jessica in an emotional way as well – it gave her an opportunity to learn more about her grandfather, who died before she was born.
"I can tell from the letters he was a gentle soul. They stuck it out until the end, a testament to their commitment."