Sports
Texas hog hunters have their own organization - finally!
Jun 18, 2017
I began writing about hunting wild hogs long before Texas became the national hot spot for traveling hunters to pursue their wild pork; long before hog hunting was cool, one might say. Checking some of my "old" newspaper columns that I penned back in the late eighties, I was detailing accounts of my hunts with muzzleloader, bows and friends that hunted hogs with dogs. One of the now decades-old columns I found detailed my annual hunts on the then-45,000-acre Broseco ranch with my friends, Damon Hodges and Wade Cobb. We would get on horseback, head out from the ranch headquarters and follow the strike dogs back into some very, very remote country.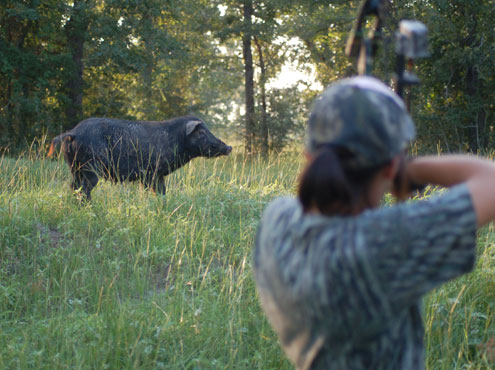 Wild hog hunting is a huge sport in Texas and one of many methods of keeping numbers in check. We now have an organization devoted to everything hog: The Texas Hog Hunters Association. photo by Luke Clayton
I remember a hunt one spring in the early nineties when White Oak creek was out of its banks and had pushed a large number of hogs up on some high ground that became an island. The guys had used 4-wheelers to get a couple of little 10-foot aluminum boats back to the ten acres or so that was holding a large number of hogs. We had to paddle a couple hundred yards to access the island and do this with the little boats loads with excited hounds and catch dogs. The gunwales of the boat I was paddling cleared the water by about 2 inches and the big Dogo catch dog that shared the craft with me was bouncing around it his excitement, all the dogs winded the hogs well before we reached the island and they were eager to get the show on the road! Yes, I have many, many stories of hog hunts I have enjoyed throughout my career as a hunter/outdoor writer.
I feel very privileged to be blessed with good health and to continue enjoying hunting hogs as much today as I did several decades ago. In my mid sixties, I most certainly am not as agile as I once was but I'm still out there after them on a very frequent basis.
I've known for a long time that an organization devoted to hunting hogs in Texas was needed. Through the years, I've written for a couple of magazines devoted strictly to hunting hogs and I've been exposed to many, many different methods of hunting them. For the past few years, to my knowledge, we haven't had a magazine devoted to hog hunting and there certainly was not an organization to bond us together.
This all began to change a couple years ago when Scott Dover took the "hog by the tusk" so to speak and formed the Texas Hog Hunter's Association www.texashha.com. With Dover as president and Eydin Hansen vice president, the organization began the arduous task of becoming established and known to hunters across the state and nation. With goals such as conservation of Texas lands, hog hunting and educating hog hunters with the tools necessary to control feral hogs, the membership grew slowly but steadily. Texas Hog Hunters Association (THHA) has always had a strong social media presence. Currently on Facebook alone, there are about 20,000 hunters following the organization.
Fast forward to this past February when Texas Agricultural Commissioner Sid Miller sent out a press release stating that Warfarin was about to be introduced into the Texas ecosystem to poison wild hogs. THHA, with the help of some very smart lawyers, began the fight to stop the introduction of poison to kill hogs. Membership grew quickly as more and more hunters jumped on the bandwagon against the use of warfarin.
THHA gained a great deal of positive notoriety as the organization that spearheaded the fight against warfarin. A bill passed the House in Austin that stated that any poison used in Texas would first have to undergo intensive study. During the legislative process the company that proposed to sell the poison, marketed under the name of KAPUT, backed down and decided not to market their wares in Texas. The bill must also pass the Senate before it becomes law and at present it appears it will not be presented. So, at present warfarin is not being sold and distributed, but, without the passing of the proposed bill, warfarin or another poison could again be proposed. It's entirely possible for the Agricultural Commission to once again come up with the idea of using poison. It remains important for those of us that are opposed to the use of poison to make our feelings known to our lawmakers.
Before "jumping onboard" the THHA bandwagon, I did my due diligence by learning all I could about the organization, its immediate plans and long term goals. I've met with the leadership of the organization and am currently working with THHA to create a brand new "free" digital magazine that will be devoted to everything related to hunting hogs. The publication, named The Sounder, The Magazine of the Texas Hog Hunter's Association, will debut in early June and include articles and departments covering everything from trapping hogs to night hunting to hunting hogs with dogs and just about everything in-between. I am excited and very pleased that finally, we hunters that love to pursue the wild hog have our very own organization and now, magazine devoted to our sport.
To learn more about THHA, simply visit Facebook and "like" Texas Hog Hunters Association. When you join the group, you will automatically be emailed The Sounder in June and begin sharing hog hunting knowledge immediately.
Listen to Outdoors with "Luke Clayton and Friends" on radio stations from Nebraska to Texas on weekends on anytime online at www.catfishradio.com.