Local News
Plans unveiled for proposed Craig Ranch Resort & Conference Center in McKinney
Apr 20, 2017
April 19, 2017—McKinney -- Plans for a proposed luxury resort and conference center in Craig Ranch were outlined during a joint meeting with the McKinney City Council and the McKinney Community Development Corporation last night. The resort will be located on an eight-acre site at the corner of Collin McKinney Parkway and Weiskopf Avenue within the 2,200-acre Craig Ranch master-planned development.
"This project has been in the planning stages for several years and we are convinced this is the right time to bring it to market," said Dave Johnson, President & CEO of Aimbridge Hospitality, one of the nation's largest independent hotel investment and management firm. "However, the City's participation is the first of a series of steps that have to happen to make this viable. We are simultaneously in serious negotiations with a seasoned developer whom we expect to announce very soon. Having the City's participation is a major component and we hope McKinney's citizens will see this as a great investment."
The property will feature 285 well-appointed rooms and suites and 33,000 square feet of flexible, state-of-the-art meeting space. Plans call for the resort to be branded under the Marriott Autograph Collection, well known for its impeccable design and sense of place, with a scheduled opening the fourth quarter of 2019.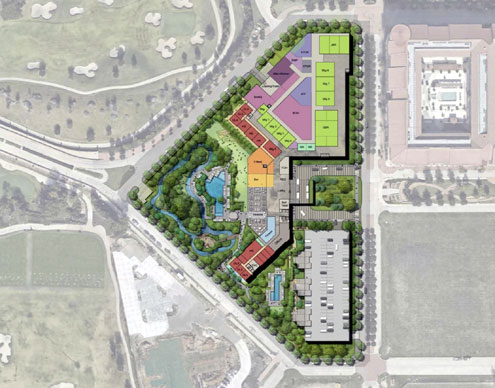 "This hotel will have a unique, intimate resort experience that is not currently available in the North Dallas market," said David Craig, master-developer of Craig Ranch. "The location, conference center and level of amenities will fit nicely into Craig Ranch and create a hub of activity for the Town Center."
Multiple food and beverage outlets will feature both indoor and outdoor seating, a fine dining restaurant, a casual upscale three-meal restaurant, a coffee/bakery kiosk serving fresh baked goods, snacks and custom coffee drinks. Other amenities include a resort style lazy river, adult pool and outdoor fire pits, valet parking, concierge services and wireless high speed Internet service. Guests of the resort will have access to the TPC Golf Course and the Craig Ranch Fitness Center & Spa.
About Aimbridge Hospitality:
Aimbridge Hospitality is one of the nation's largest independent hotel investment and management firms with a proven track record for delivering superior returns for its strategic partners in a variety of markets and economic cycles. Aimbridge provides property management, asset management, development, renovation and consulting services. Based in Dallas, Texas and with development offices in Chicago and Puerto Rico, Aimbridge currently owns and/or manages approximately 500 upscale, independent and branded hotels with more than 70,000 rooms across the United States and the Caribbean. For more information on Aimbridge Hospitality, please visit www.aimbridgehospitality.com.
About Autograph Collection Hotels:
Autograph Collection Hotels celebrates individuality by curating one-of-a-kind travel experiences at more than 100 luxury lifestyle hotels found in the world's most desirable destinations. Exactly like nothing else, each hotel has been hand selected for its distinction as an iconic landmark, for its remarkable design or for its best-in-class resort amenities. For more information please visit www.autographhotels.com and explore our social media channels to learn more about championing the independent spirit that is #ExactlyLikeNothingElse. Instagram Twitter Facebook.
About Craig Ranch:
Located at the crossroads of Frisco, Plano, Allen and McKinney, Craig Ranch is quickly accessible to major employment centers, regional and specialty shopping, fine dining and sports and entertainment venues throughout Collin County. Craig Ranch is within 30 minutes of DFW International Airport and Dallas Love Field and within seven minutes of McKinney National Airport. Craig Ranch is a high profile, regional point of destination and the home of the McKinney Corporate Center Craig Ranch, a premiere 137-acre office park. McKinney Corporate Center offers a prime location fronting the Sam Rayburn Toll Road and access to an abundant well-educated labor pool.
Craig Ranch embraces the American tradition of community that is enhanced by an environment of family and neighborhood. The core essentials of home, nature, connection, health and fitness provide a self-sustaining environment. The TPC Craig Ranch private golf course is the centerpiece of the community and a member of the Audubon Cooperative Sanctuary program. The open green spaces and small-town ambiance of Craig Ranch serves as a natural setting for outdoor events, fitness trails, art fairs and exhibits. Soccer and baseball fields, hike and bike trails and unique amenities give residents a sense of place they are proud to call home.
Its marquee venues include: the TPC Craig Ranch, Michael Johnson Performance, the Craig Ranch Fitness Center & Spa, Craig Rach Medical Center, Dr Pepper StarCenter McKinney at Craig Ranch, The Ball Fields at Craig Ranch, The McKinney Premier Soccer Fields at Craig Ranch and The Beach at Craig Ranch, a youth to pro-level sand volleyball venue. For information, please go to www.CraigRanchTx.com.